HANDS Fundraiser in Sacramento Generates Interest
By Ras H. Siddiqui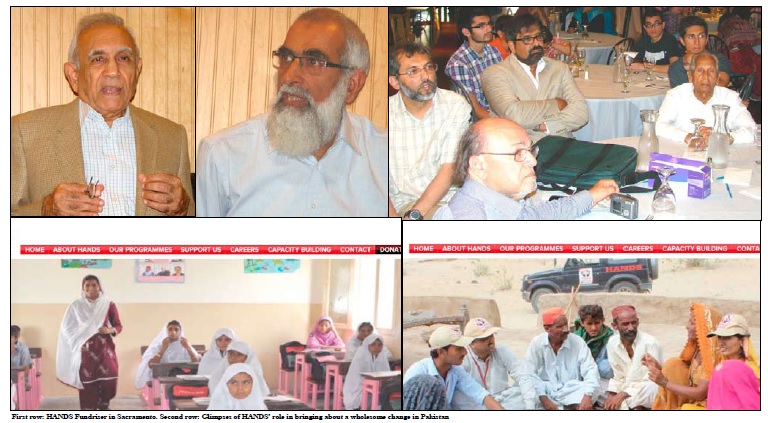 The HANDS organization ( www.hands.org.pk ) has been doing valuable human development work in Pakistan for the past 33 years and the biggest surprise for many of us here in America is that we don't know enough about it. This scribe initially thought that this event was for another charity with a similar name (it wasn't). Known as the Health And Nutrition Development Society (HANDS), this effort was started in 1979 and actually gained traction in Pakistan during the 1980's. Its expansion has not stopped since that time and with more support it can help even more people face both natural and man-made adversity in that country.
We were lucky to have with us two luminaries of the organization on June 25 th at the Fundraising Dinner at the Spice of Life Restaurant in Sacramento (hosted by Mr Saghir Osmani). The founding Chairman of HANDS Professor A. Gaffar Billoo (Sitar-e-Imtiaz) and Finance Secretary Dr Saeed Ismail, both spoke here and raised our awareness about their work, and made themselves available for questions afterwards.
The evening started off with a recitation from the Holy Qur'an by a young man from the community. It was followed by an introduction by emcee Arshad Khan. Prof. Billoo, who is also the Current Prof. Emeritus AKU, Former Dean Karachi University/Head of Pediatrics Civil Hospital Karachi, spoke first. Billoo gave us an overview of HANDS, and for those of us not familiar with the organization, the enormity of their effort was revealed in a most humbling way. He presented slides along with his speech which highlighted the holistic approach that HANDS has taken to face the many challenges at hand. He said that HANDS did not believe that giving out money is the solution to address the needs of the poor. He added that what was equally, if not more, important was the need to give the poor the skills and the means to empower themselves and become economic contributors in society.
Professor Billoo gave a short history of how HANDS came into being. "It started from the veranda of my house," he said. He added that after 33 years HANDS has evolved into one of the largest non-profit organizations in the country with an integrated development model with 29 offices and access to 42000 villages/settlements in 29 districts of the country. He said that the organization had 18 volunteer governing board members, a staff of 1400 and many more volunteers in over 3000 community-based organizations. He said that HANDS had received recognition, full endorsements from or worked with the Pakistan Center for Philanthropy, HAP, USAID and is accredited with the European Union. He said that the vision of the organization was a "healthy, educated, prosperous and equitable society" with a mission for improving health, promoting education, alleviating poverty and developing social institutions for community empowerment.
Based primarily in Sindh and nearby Baluchistan, HANDS has also established a presence in Punjab and KP. Approximately 66% of HANDS staff consists of women. Billoo also went into the various programs that the organization had in operation and especially highlighted the MARVI Community Health Workers and their contributions. Space constraints in this report do not allow for more details but one can point out that the Professor elaborated on many key HANDS programs all of which are commendable. He stressed that all this work would not have been possible without the help of Allah (SWT).
The next speaker Dr Saeed Ismail gave both functional and monetary details of HANDS projects. For example, primary health care serving a population of 1000 people costs $1600. It costs $2900 to train a midwife to serve a population of 5000 people to help both mother and baby. $145,000 is the cost of building a model hospital and it takes only $300 to build a shelter for the homeless. It costs $4400 to adopt a school for one year and $65,000 to construct a middle school and $300 to construct a drinking water facility and so on. He said that with Allah's (SWT) guidance these and many other projects were underway.
During the subsequent Q/A session it was revealed that HANDS has low 10% to 15% overhead costs. Its aid recipients are people of all/any faith, gender or ethnicity. And at the moment all contributions to the organization are being made via the i-Care Fund America website. The i-Care Fund America is located in Boston, MA ( http://www.i-care-america.org/hands/ ). Please mention HANDS in your donations.
After Magrib prayers, during dinner this writer had a chance to chat with Prof. Billoo and Dr. Ismail. These are two really motivated individuals who let the work of HANDS do all the talking for them. It was a pleasure to meet them here in Sacramento, and we hope that the readers all over America consider assisting their efforts to help the poor in Pakistan.
-------------------------------------------------------------------------------------