Fundraiser for Michael Wolfe's New Movie
By Abdus Sattar Ghazali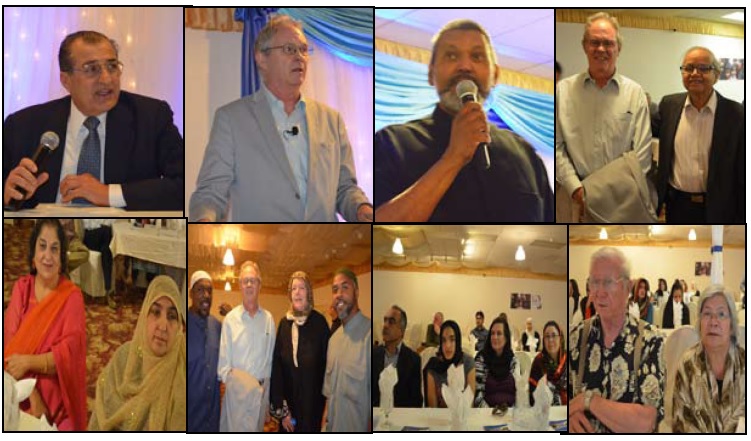 Alalusi Charity Foundation held an Iftar dinner at the Chandni Restaurant on July 14 to raise funds for Michael Wolfe's latest film based on the real, but widely unknown, heroism of a Muslim French women in WWII, Noor Anisa Khan.
Hesham Alalusi, President of the Alalusi Charity Foundation, welcomed the guests and introduced Michael Wolfe, Executive Producer of Unity Productions Foundation, which has produced a number of documentaries on Islam and Muslims.
The fund-raising program included screening of shots from UPF's previous films.
In 2002, UPF produced its first full-length film, called Muhammad: Legacy of a Prophet, a two-hour television documentary on the life and times of the Prophet Muhammad. The film, which Wolfe co-created, co-produced, and co-executive edited, received a national broadcast on PBS and subsequent international broadcasts on National Geographic International. It was awarded a Cine Special Jury Award for Best Professional Documentary in its category of People and Places.
Wolfe co-produced two new films in 2007. The first was entitled Cities of Light: The Rise and Fall of Islamic Spain. It was aired nationally on PBS on Aug. 22, 2007. Prince Among Slaves was also aired on PBS that year. It is the true story of an African prince enslaved in antebellum Mississippi struggling to regain his freedom.
UPF has since released a trio of contemporary documentaries. On a Wing and A Prayer (2008) and Talking through Walls (2009) both appeared on PBS. The third film, Allah Made Me Funny (2008), was released in theaters. In 2009, UPF's seventh film appeared on PBS. Based on a worldwide Gallup Poll of the Muslim world, it is called Inside Islam: What a Billion Muslims Really Think. All UPF films have websites and are additionally available through UPF's educational outreach project, called 20,000 Dialogues.
A trailer of UPF's new film on Noor Inayat Khan, a French Muslim woman, was shown at the fundraiser. Noor Khan worked as a British Special Operations Executive agent during the Second World War. The Moscow-born Noor Khan, a descendant of Tipu Sultan, was a British secret agent who was sent to Nazi-occupied France as a radio operator.
Noor Khan landed in French territory in June 1943 but was betrayed and arrested in October that year. A British Special Operations Executive Agent, she was the first female radio operator to be sent to occupied France to provide aid to the French resistance.
Known as Nora Baker among the resistance fighters, Noor Khan refused to reveal any secrets to the Germans. She also escaped once from jail but was re-arrested and classified as a dangerous prisoner. In September 1944, when she was only 30, the Germans, who had moved her into a concentration camp, shot her dead. She was posthumously awarded the George Cross for her bravery.
Dr. Rajabaly, a prominent personality of the Bay Area, served as fund raiser. About $ 70,000 were raised for the project of the UPF. The fundraising continued till the Iftar when magrib prayer was held and followed by a dinner.
Hesham Alalusi, President of the Alalusi Charity Foundation, thanked the audience for making the fundraising event a success.

-------------------------------------------------------------------------------------