Appreciation Award for Editor
Consulate General Recognizes Pakistan Link's Services
By Link Staff Reporter
Pictures by Anwar Khawaja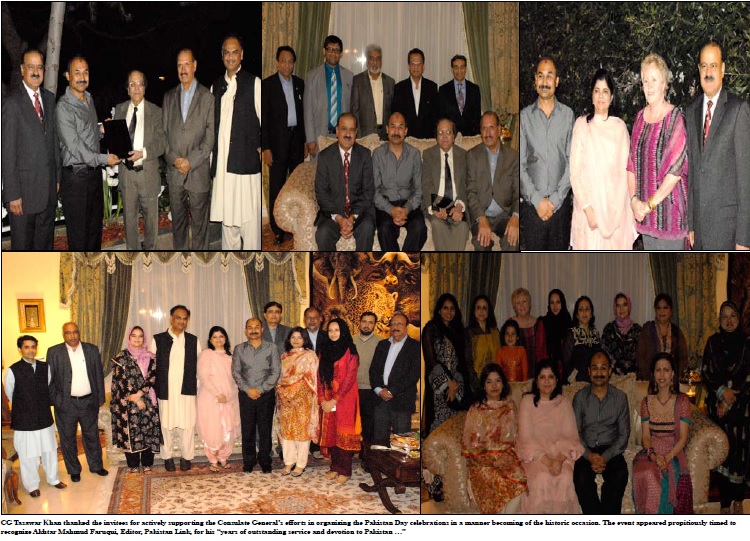 Anaheim, CA: Consul General Tasawar Khan and Mrs Iffat Tasawar Khan hosted a dinner at their Beverly Hills residence on May 10 to thank members of the community who played a pivotal role in the success of the 73 rd Pakistan Day celebrations.
The invitees included Netsol President Najeeb Ghauri, PL Publications President Arif Mansuri and his wife Zebbie Mansuri, editors of Pakistan Link and Urdu Link, HDF's Dr Yasmin Qasim and Feroz Qasim, Safeere Pakistan's Waqar Ali Khan and Fatima Khan, Pakistan Club's Rubina Faruqi, Mustaqeem Syed, Almas Ahmad and Abida Ahmad, Ali Sajjad, and Waseem Beg. Besides, Consul Dr Khalid Ejaz and his wife Dr Erum Ejaz, and members of the Consulate General were present on the occasion.
In his brief after-dinner remarks, Consul General Khan thanked the invitees for actively supporting the Consulate General's efforts in organizing the Pakistan Day celebrations on a befitting scale and in a manner becoming of the historic occasion. He was particularly appreciative of the zest demonstrated by Arif Mansuri in making the celebrations a truly memorable event.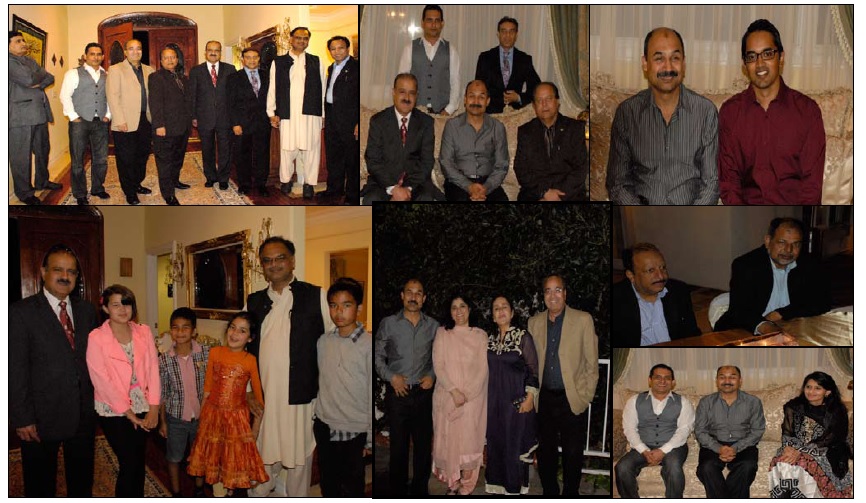 Speaking on the occasion, Mansuri said he considered himself privileged to be associated with the Pakistan Day celebrations. He enjoyed every moment of planning the program to its minutest details in the company of Consul Dr Khalid Ejaz. Both worked laboriously and succeeded in organizing a highly educative and entertaining program.
The occasion was considered propitiously timed by the Consulate General to recognize Akhtar Mahmud Faruqui, Editor, Pakistan Link, for his "years of outstanding service and devotion to Pakistan …" He was duly presented an 'Appreciation Award' by the Consul General.
A former Principal Public Relations Officer of the Pakistan Atomic Energy Commission, Faruqui also had a short stint as Assistant Editor DAWN. With him at the helm, Pakistan Link has gone from strength to strength over the years – sought by American universities and respected for its erudite views in scholarly circles.
Faruqui gratefully accepted the award and acknowledged it as a token of recognition of the painstaking strivings of Link's entire team - Arif Mansuri, Akhtar Faruqui, Shabbir Ghori, Anwar Khawaja, Shiraz Sheikh et al. - and the insight and scholarship of its many learned contributors. Ungrudgingly, Pakistan Link "derives its strength from its contributors and the dedication of Mansuri Sahib, Ghori Sahib and Khawaja Sahib," Faruqui duly acknowledged.
He thanked Consul General Khan and Consul Dr Khalid Ejaz for graciously recognizing Link's services and conferring the award on the paper's editor.
-------------------------------------------------------------------------------------