Joint Venture of US-Based Netsol Technologies & Saudi Arabia's Atheeb Group Recognized at Nasdaq Bell Ringing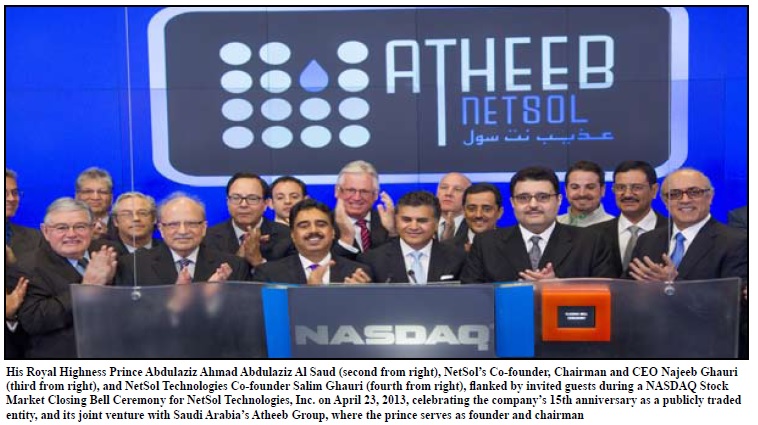 New York: His Royal Highness Prince Abdulaziz Ahmad Abdulaziz Al Saud was the guest of honor at The NASDAQ Stock Market Closing Bell Ceremony for NetSol Technologies, Inc. (Nasdaq: NTWK) this spring in New York City. He was joined by NetSol's Chairman and CEO, Najeeb Ghauri, to help celebrate the company's 15th anniversary as a publicly traded entity, and its joint venture with Saudi Arabia's Atheeb Group , where the prince serves as founder and chairman. This is the fourth time NetSol has been invited to participate in a NASDAQ bell ringing ceremony.
Atheeb NetSol, the joint venture between NetSol Technologies and the Atheeb Group that was launched in 2010, focuses on medium- to large-scale IT projects in the Kingdom of Saudi Arabia and the Gulf Cooperation Council market, targeting key business sectors such as telecommunications, defense and finance. Atheeb NetSol recently signed agreements in the areas of cyber security, application development and consulting.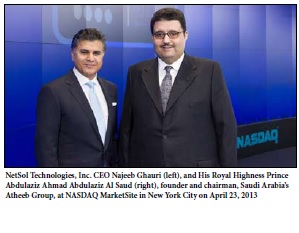 "We forged the joint venture on the strengths of our two companies as we focus our efforts on Saudi Arabia and other GCC nations," said Prince Abdulaziz Ahmad Abdulaziz Al Saud. "Demand for information technology services is growing in Saudi Arabia, placing Atheeb NetSol in a favorable position, leveraging our combined vast resources of unparalleled industry sector expertise and a highly educated talent pool."
According to the Saudi Arabia Information Technology Report, Saudi Arabia has the biggest IT market in the gulf region with a forecasted valuation of $5.7 billion by 2016. The report also noted the country's stable political environment and investment in its technology and communications infrastructure are key factors for Saudi Arabia's economic growth opportunity.
As a Saudi businessman and member of the Saudi Royal Family, the prince is actively involved in both economic and philanthropic pursuits. While leading the Atheeb Group, a diversified investment conglomerate with stakes in telecommunications, contracting, defense, ports, shipping and other industries, his royal highness also continues his efforts as a worldwide humanitarian with close links to the World Health Organization.
Ed Knight, EVP and general counsel at NASDAQ OMX, opened the closing bell ceremony by welcoming his royal highness and NetSol's Chairman and CEO Najeeb Ghauri. "I'd also like to extend a warm welcome to members of the management team and all our distinguished guests to NASDAQ," added Knight. "We're excited that you all could join us – right here from the crossroads of the world – in Times Square New York as we get set to ring today's closing bell."
"It is an honor to preside over the closing bell together with his royal highness to celebrate this important milestone," said Ghauri m oments before the bell ringing countdown. "Our joint venture, Atheeb NetSol, is an important part of our growth strategy and signifies our commitment to Saudi Arabia and GCC nations. We are optimistic about our joint venture's future and look forward to continued global growth as we expand into new markets including China, Thailand, and Indonesia."
NetSol Technologies' global expansion continues to positively impact the company's bottom line. Fiscal year 2012 was NetSol's best ever and the company is on track for another record year. Its Q2 2013 was its strongest quarter in company history, generating record revenues while yielding strong net income and a very strong EBITDA.
Ghauri pointed out that the road to success didn't happen overnight, stating that NetSol started with only two employees and over the course of 15 years has grown to a staff of 1,100 worldwide with multiple offices around the globe.
"Our story is now a global one and has been for quite some time. Today, we are a worldwide provider of enterprise applications, with our proprietary leasing and asset finance software now managing more than $100 billion in assets for 170 global businesses," added Ghauri. "The markets are responding to our success and we remain committed to growing our company as we focus on execution across the entire organization set at improving long-term shareholder value."
More information on the NASDAQ Stock Market Closing Bell Ceremony for NetSol Technologies as well as a replay video can be found by visiting http://bit.ly/NASDAQNetSol .
-------------------------------------------------------------------------------------