ISEB Celebrates the World Harmony Week
By Abdus Sattar Ghazali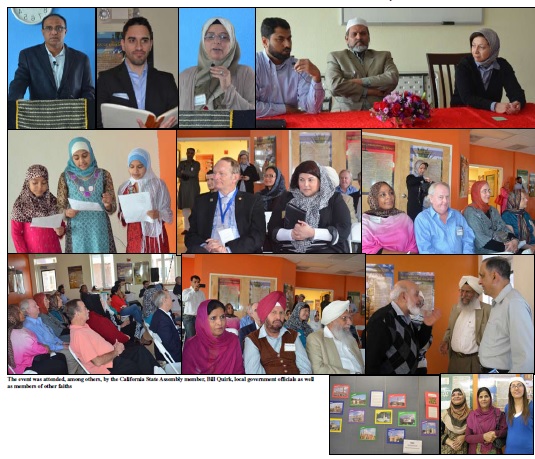 The Islamic Society of East Bay (ISEB) held an open house on February 16 to celebrate the World Harmony Week which has been proclaimed by the United Nations General Assembly.
The event was attended, among others, by the California State Assembly member, Bill Quirk, local government officials as well as members of other faiths.
Moina Shaiq, President of the Muslim Support Network, recognized the officials attending the event.
Aidan Ali-Sullivan was the MC of the program. It began with the recitation of the Holy Qur'an by Ibrahim Hussaini, a student of the ISEB full-time school – the Peace Terrace Academy.
Five students of the ISEB Sunday School presented a peace song "We are for you." The students were: Ifrah Ahmed, Sidra Ahmed, Manal Ahmed, Hassan Khawaja and Fatima Khawaja.
President of the ISEB, Wajahat Abdullah, spoke about the services provided by the ISEB to the ever increasing Muslim population of the Bay Area. Besides regular prayers, the service included full time school, Sunday Islamic School and funeral services.
Maha Elgenaidi, the founder of the Islamic Network Group, gave a representation about Islam through Power Point.
It was followed by a panel discussion. The panelists were: Maha Elgenaidi; Dr. Rajabaly, a former president of the ISEB and Ahsan Beg, Chairman of the ISEB Outreach Committee. The audience asked questions about the treatment of women in Islam, Sunni-Shia issue, clerical hierarchy in Islam, Ramadan fasting and the ritual of Hajj.
The participants were given a tour of the ISEB complex. They also watched the Asr prayer.
It may be recalled that the World Interfaith Harmony was declared by the General Assembly in October 2010. It is to be celebrated in the first week of February. The World Interfaith Harmony Week provides a platform — one week in a year — when all interfaith groups and other groups of goodwill can show the world what a powerful movement they are.
It is hoped that this initiative will provide a focal point from which all people of goodwill can recognize that the common values they hold far outweigh the differences they have, and thus provide a strong dosage of peace and harmony to their communities.
-------------------------------------------------------------------------------------