Splendid Images of Pakistan in Washington
By C. Naseer Ahmad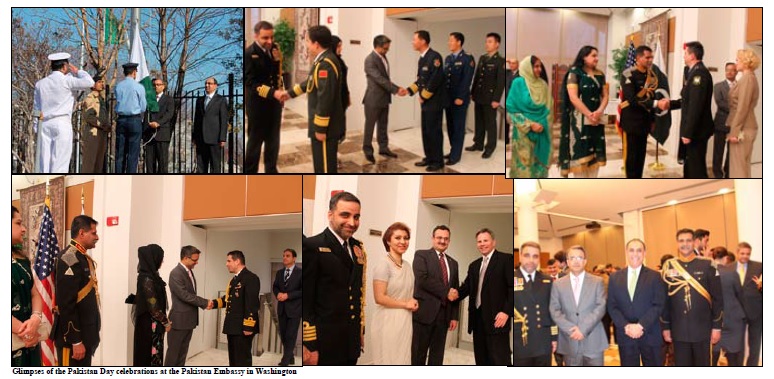 The political climate might be a bit murky but on Pakistan Day the sun shone brightly over the beautiful building of the Pakistan Embassy on International Court in Northwest Washington – just across the street of the embassy of a steadfast friend China. Photographs capture a line of sharply dressed military waiting for a warm hand shake with senior Pakistani diplomats. Ambassador Sherry Rehman was in Islamabad while the able embassy staff entertained. Each image conveys a thousand words of hope and promise that the Father of the Nation – Quaid-i-Azam Mohammad Ali Jinnah dreamed a long time ago.
The flag of the United States remained in the background of these images denoting a long standing friendship, perhaps as a reminder that it was the first country to recognize Pakistan. A fact which has been recorded in Quaid-i-Azam's historic speech.
Long after the flag-hoisting ceremony on March 23, 2013, enthusiastic Pakistani Americans like Tariq Mahmood were seen driving around the International Court. They traveled a long distance to one more image of the reminder of the home country. The sun was still shining brightly and architects dream portrayed a serene image. Friends of Pakistan who gathered at the ceremony were hoping for brighter days like the sunny Sunday on March 23, 2013. For them, hope of spring is eternal.
-------------------------------------------------------------------------------------