Mashal Holds Afternoon Event for Malala
By Ras H. Siddiqui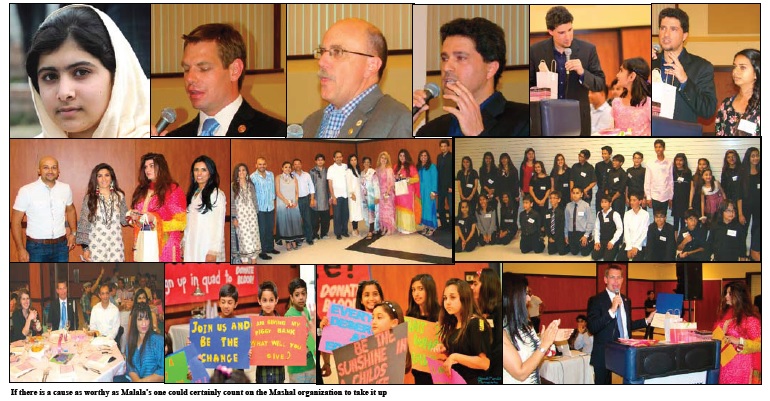 Mashal, one of the San Francisco Bay area's premier Pakistani-American organizations, held a benefit fundraiser at the Dougherty Valley High School in the City of San Ramon on May 11 th to assist a Pakistani girl's vision to spread education. An inspiring effort called the "Malala Fund" has been incubated by the Vital Voices Global Partnership ( http://www.vitalvoices.org ) to help now international educational icon Malala Yousafzai in spreading female literacy in Pakistan and beyond. According to the Vital Voices website, "The Malala Fund supports education and empowerment of girls in Pakistan and around the world." The focus is on education for girls, something which a few people may take for granted here but without it chances of success even in America are low.
A brief background of Malala Yousafzai: She is a Pakistani teenager who recently became the youngest nominee for the Nobel Peace Prize. In October, 2012 at the age of fifteen she was shot in the head by extremists in the town of Mingora located in the picturesque valley of Swat, Pakistan (ironically a place of great beauty where honeymooners once used to go). Named after a Pashtun female warrior and poetess, Malala took a very public stand for her right to education and against extremists in the area who oppose it and blow up girls' schools, often threatening those who want their daughters to get an education in the region. These extremists could not tolerate her defiance and shot her and two others as they were returning home from school. The bullet went through her head (she is lucky to be alive) and since then she has been treated at various medical facilities, most recently at the Queen Elizabeth Hospital Birmingham. She is currently residing in the United Kingdom these days still recovering from her injuries and going to school there. On education, she remains as determined as ever in spite of the challenges created for someone who has been shot in the head.
If there is a cause as worthy as Malala's one could certainly count on the Mashal organization to take it up. The afternoon started off with a children's parade during which they carried signs showing their solidarity with Malala Yousafzai's vision and encouraging the generosity of potential donors. Emcee for the evening Omar Khan opened the formalities by wishing a "Happy Mother's Day" to the mothers present. May 11 th was also Election Day in Pakistan and many in attendance, including Omar showed their support for the democratic process there. Omar, praised the resilience of the Pakistani people and their determination to vote. On Malala he mentioned a documentary which he had seen and how moving it was, reminding him of his own daughter. He added that while Malala was being transported out of Pakistan after the attack on her he bowed down and prayed like many other Pakistanis. "Although Malala is an international figure today, she is ours. She is from Pakistan," he said. "And all of these terrorists do not represent Pakistan." In a message to others he said, "We oppose and hate them as much as you do." He also added, "No matter how many schools the bad guys blow up, we are going to create even more schools. And, more importantly, we are going to create more girls' schools."
Keynote speaker area Congressmen Eric Swalwell spoke next, starting off by wishing a "Happy Mother's Day" to all mothers' present. "For me, I believe gender equality starts with education," he said. He added that it was important that we had assembled here at a high school, a focal point for education ad that education for children all over the world should be a priority. He spoke about the benefits of education to all, especially education for girls. "I am inspired by Malala's story. I am inspired by her bravery," he said. "Let her be a symbol for all of us," he added. He praised her determination and thanked Mashal for highlighting this cause. He presented a Congressional Certificate of Recognition to The Mashal Organization which read "Thank you for your hard work benefitting the Malala Fund and fostering cultural unity in our community."
After introducing items for auction including table centerpieces and artwork, Omar Khan also recognized two young people, Minahil Afzaal a second grader who raised the most money for the Malala Fund, and 9 th grader Simrah Farrukh for her excellent photography covering community events. He then invited the Mayor of San Ramon the honorable Bill Clarkson to say a few words.
Mayor Clarkson said that it was a pleasure for him to be a part of this event. He expressed his support for the diversity of the area and pride in the fact that Doherty Valley High School had received very high rankings in California and the entire country. San Ramon was also identified as the wealthiest city in America according to a recent article. "We are truly blessed," he said.
Omar next introduced the entertainment segment featuring versatile singers Zeenat Naeem and Nayan who could easily add Fateh Ali Khan to his last name. But we were first sidetracked by a group of young ladies who decided to present a colorful dance to the Punjabi song "Balley Balley". One can suspect that that there was an ulterior motive to this interruption because "Balley" and "Ballay" (Cricket Bat) sound almost the same and the election symbol in Pakistan of a political party very popular amongst those in attendance here was a cricket bat. Its leader (Imran Khan) has been referred to as "Ballay Khan" on occasion.
The new Mashal Board was introduced with Ayesha Khan as its President along with Amina Ahsan Haque as Secretary, Maryam Hazir as Treasurer and Rasim Bokhari. The group "Dream To Play" was also recognized for holding a charity cricket tournament for the same great cause. It was represented here by Zeeshan Khan who presented a substantial check made to Vital Voices from that fundraiser. Dream To Play's agenda is to raise funds for worthy causes using the power of sports. Former Mashal Board members were also recognized here, including Faraz Sattar, Anwar Mirza and Abid Farooq. There was also a welcome introduction of Zakir Siddiqui whose English song "Out of Goodbye's" received widespread appreciation.
In conclusion, once again Mashal has shown that it is in tune with the pulse of our community. This gathering, in which kids served the tasty lunch and always remained at the forefront, was not only a fundraiser for the Malala Fund, it was a salute to Malala Yousafzai herself, her bravery against extremism, and a rallying cry for those who want education for all. This scribe would like to add here that we as a community support those who believe that young girls should have books in their hands, dreams in their eyes, and not titanium plates in their skulls (like Malala). Great job Mashal and let us keep that torch lit in San Ramon!
-------------------------------------------------------------------------------------