Quaid-i-Azam's Birthday Celebrated in San Francisco Bay Area
By Abdus Sattar Ghazali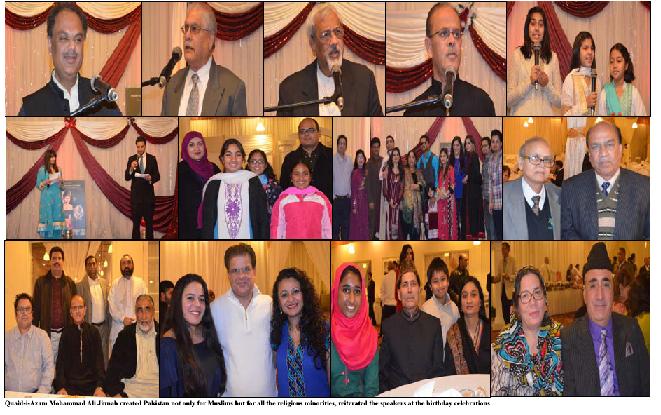 San Francisco Bay Area Pakistani-American community celebrated the birthday of the father of the nation Qaid-i-Azam Mohammad Ali Jinnah with great enthusiasm and fervor. The celebration, sponsored by Pakistan Association of San Francisco Bay Area, was held on December 25 at the ornate Chandni Restaurant in Newark and drew a large crowd of 400.
It was a colorful program that began with the recitation of the Holy Qur'an. Three students from the Anderwood Elementary School, Newark – Afrah Ahmed, Sidra Ahmed and Manal Ahmed – presented a national song which won wide applause.
Syed Nusrat, President of Pakistan Association of San Francisco Bay Area, welcomed the guests on behalf of his Association. He thanked the sponsors and volunteers who made this program successful. He particularly thanked Syed Sarwat, owner of Chandni Restaurant, for sponsoring theevent. Others who supported this event included Tri City Travel, City Garden Inn Hotel, Jadoo TV, Payless Towing, KK Builders and Ellahie & Farooqui Law Firm.
Syed Nusrat also thanked Azmat Gill, owner of the Urdu News San Jose; Raana Faiz, host of Hamrahi Radio Program, and writer and journalist Abdus Sattar Ghazali as well as Pakistan Link for supporting the Pakistan Association which was established in 1970s.
Eban Hamdani and Shariq Siddiq were the MCs of the program.
A documentary about the life of the founder of Pakistan was shown. Poet Javed Syyed amused the audience with his patriotic poetry.
Dr. Muhammad Khalid Ejaz, Consul at the Consulate General of Pakistan in Los Angeles; Prof. Dr. Hameed Raza Siddiqui, President ,Ideology of Pakistan Forum, Multan; lawyer Javed Ellahi and Tashie Zaheer, an entrepreneur and President of the Urdu Academy of North America were the main speakers.
Javed Ellahi said that Quaid-i-Azam Mohammad Ali Jinnah created Pakistan not only for Muslims but for all the religious minorities. He was alluding to Quaid-i-Azam's August 11, 1947 speech while presiding over the Constitutional Assembly session: "I think we should keep that in front of us as our ideal and you will find that in course of time Hindus would cease to be Hindus and Muslims would cease to be Muslims, not in the religious sense, because that is the personal faith of each individual, but in the political sense as citizens of the State"
Quaid wanted a secular Pakistan and not a theocratic state. In a radio message to the people of the United States of America in February 1948, he said: "Pakistan is not going to be a theocratic State to be ruled by priests with a divine mission. We have many non-Muslims - Hindus, Christians, and Parsis - but they are all Pakistanis. They will enjoy the same rights and privileges as any other citizens and will play their rightful part in the affairs of Pakistan."
Javed Ellahi said that recently he returned from a visit to Pakistan where everything now looks in a mess but Quaid-i-Azam never wanted the country in such a condition but a country where people could live together in peace.
He praised the role of the judiciary in Pakistan. Javed Ellahi said that as a lawyer he believes in the rule of law and he was impressed by the role of judiciary in firmly establishing the rule of law and taking a stand when the government deviates from the law. In this respect he mentioned the case of Prime Minister Gilani who was forced to resign when he acted against the law.
Tashie Zaheer, President of the Urdu Academy of North America, was the keynote speaker.
He began his speech with the following quotation of an American biographer of Mohammad Ali Jinnah, Stanley Wolpert: "Few individuals significantly alter the course of history. Fewer still modify the map of the world. Hardly anyone can be credited with creating a nation-state. Muhammad Ali Jinnah did all three." These are the opening words of Wolpert's book "Jinnah of Pakistan" published in 1984.
Stanley Wolpert went on to say: Hailed as "Great Leader"(Quaid-i-Azam) of Pakistan and its first governor general, Jinnah virtually conjured that country into statehood by the force of his indomitable will. His place of primacy in Pakistan's history looms like a lofty minaret over the achievements of all his contemporaries in the Muslim League. Yet Jinnah began his political career as a leader of India's National Congress and until after World War I remained India's best 'Ambassador of Hindu Muslim Unity'. As enigmatic a figure as Mahatma Gandhi, more powerful than Pandit Nehru, Quaid-i-Azam Jinnah was one of recent history's most charismatic leaders and least known personalities."
Tashie Zaheer pointed out that Quaid-i-Azam was a charismatic leader, he used to deliver his speeches in English but people used to flock to his meetings to listen to his speeches although they did not understand the English language. The reason was that there was no contradiction in his professed convictions and his actions.
Alluding to the current situation of Pakistan, Tashie reminded the audience that Quaid-i-Azam was not pessimistic about his nation. In his last speeches he said, "My message to you all is of hope, courage and confidence. Let us move all our resources in a systematic and organized way and tackle the great issues that confront us."
Quaid-i-Azam's life is an example for us, Tashie said, adding "the best way to pay tribute to him is that we should strive for the development and progress of Pakistan with our best abilities."
Prof. Dr. Hameed Raza Siddiqui, President of the Ideology of Pakistan Forum Multan, argued that Pakistan was achieved with great sacrifices and we should all work for its progress. He said he was impressed by this gathering which reflects the love of the people for their native country which is their identify.
Prof. Siddiqui reminded the audience that the USA was the first country to recognize Pakistan which is the basis of Pak-USA relations. He urged the audience to follow the teachings and examples of Quaid-i-Azam. In this respect he quoted few instances. The great leader left (Rs. 6.8 million which is equivalent to approximately to $ 2,060,000) his hard earned money as a Barrister in Bombay to educational institutions in India and Pakistan.
Consul Dr. Muhammad Khalid Ejaz pointed out that the whole struggle of the Quaid-i-Azam was based on constitution and law. He said that many people played important roles in the independence of Pakistan and India but Quaid-i-Azam was the only leader who never went to jail during the struggle. He went on to say that the reason was that his struggle was always within the confines of law and constitution.
Dr. Ejaz said that Quaid-i-Azam refuted the argument of Gandhi that Hindus and Muslims are one nation who have been living together for centuries and would be able to live together in a united India. Quaid-i-Azam argued that everyday on railway stations this theory is refuted where tea and water is served to Hindus and Muslims separately.
He said that through his legal struggle the Quaid convinced the British rulers that Muslims and Hindus are two separate nations.
Entertainment: The enlightening speeches were followed by live music performances.
Bay Area's popular singer, Almas Hamid, thrilled the audience with her presentation of old Pakistani songs. She refreshed the memories by singing Noor Jahan's popular songs: Aawaz De KahaN Hai and Oh Chandni RateiN TaroN Se KareiN BateiN.
Shariq Sidz, a gifted rising singer from Chicago, Illinois, stole the show with his breathtaking performance. Sidz released his first album - Dil Toota – last July which became an instant hit. His music is a fusion of Western and Pakistani rock albeit he incorporates multiple kinds of genre in his music. Prior to his performance a documentary was screened about his life and mission. Born in Pakistan, Sidz is in his early twenties and is aspiring to bring out the local talent and give opportunities to upcoming singers so that they can showcase their music all over the world.
-------------------------------------------------------------------------------------