Pak American Culture & Arts Council of Greater Sacramento Celebrates New Year
By Abdus Sattar Ghazali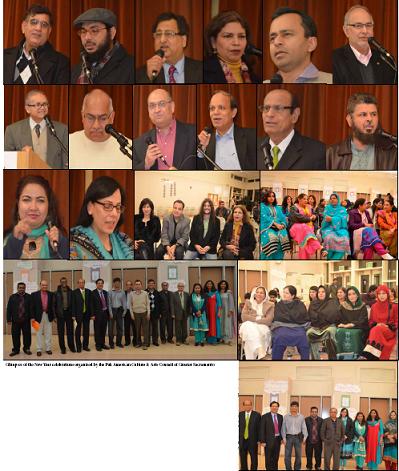 Pak American Culture & Arts Council of Greater Sacramento held a 'New Year Halla Gulla' night on Saturday, January 5, at the Witter Ranch Elementary School in Sacramento. The event attracted a large crowd from the Greater Sacramento as well as San Francisco Bay Area.
The evening program began after a sumptuous dinner catered by Kabab Corner Restaurant of West Sacramento. At the outset Naeem Syed, MC, paid homage to Dr Manzooruddin Ahmed, ex-Vice Chancellor, Karachi University, who passed away on December 27, 2012 in New York. Sayed invited Qari Aamir, Imam of the Woodland Mosque, to offer prayers for Dr. Manzooruddin and a few other community members who expired recently.
The Halla Gulla Night included music and poetry. Maqsood kicked off the evening with his presentation of humorous poetry. He was followed by Abdus Sattar Ghazali who amazed the audience with a Punjabi poetry presentation. He also drew applause for his comical poetry presentation.
Dr Nirmal Maan, Dr Zia Zafir , Dr Shaista Rauf, Dr Zahoor Ahmad of Woodland and Mir Shams Nazir thrilled the audience with their poetry. Dr. Nirmal Maan's extended poem "Jawani Ke Din" drew wide applause. The poem reflected Josh Malihabadi's articulation.
Asif Haq, Nadim Mohammad and Khalid Saeed amused the audience with their karaoke songs.
Popular ghazal singer, Shakila Ahmed, stole the show with her presentation of ghazals without music. Born in Dhaka, Bangladesh, Shakila has participated in concerts all over the world. Her multilingual singing in Urdu, Punjabi and Bengali imparts zest to her singing. She captivated the audience with her melodious presentation of the ghazals of Wali Dakhni and Ahmed Faraz. These ghazals will be part of her new album to be released soon.
Aziza Rehman, niece of famous South Asian singer Gulshan Ara Syed, was another singer at the Halla Gulla Night who won wide applause.
A lucky draw was another interesting highlight of the Halla Gulla Night. Javaid Akhtar, one of the top producers of Nationwide Insurance in the Sacramento area, offered a ladies suit as a prize for the lottery winner.
The dinner catered by 'Kabab Corner Restaurant' of West Sacramento was delicious and greatly appreciated by the guests.
At the conclusion of the event, Khalid Saeed of the Pak American Culture & Arts Council, thanked the audience for making the Halla Gulla Night successful.
-------------------------------------------------------------------------------------