Family Seeks Help in Baber Suleman's Rescue Efforts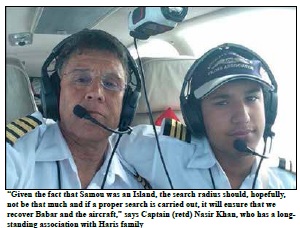 Plainfield: As US authorities continued their search for pilot Baber Suleman, who was attempting to circumnavigate the world in 30 days with his now deceased 17-year-old Haris Suleman, family and friends have made impassioned pleas to those involved in the hunt for bringing in more resources quickly.
The father-son duo was flying a single engine aircraft which crashed near Pago Pago Island on July 23 for reasons not known as yet. At the time of the crash Haris, whose body was recovered a few hours after the crash, had been attempting to become the youngest pilot ever to complete the journey. However, authorities were still searching for his father.
On Friday, Baber's daughter Hiba Suleman and a family friend Azher Khan held a press conference outside their house in the US, requesting help from anyone who can assist with search efforts.
"We want to find Baber; he is a fighter and I know he is somewhere out there, waiting for someone to come to his rescue," said Khan.
"We just want all the resources to be mobilised; time is essence," he emphasized, adding that the sooner they bring more resources, the better chances are for finding Baber.
"Miracles happen; people have survived in worst situation for days and we have not given up on hope and prayers," he added.
Hiba, while speaking to the media, called on to people with relevant resources to assist the search teams with rescue work. The family has also created a Facebook group and hashtag #BringBabarHome in order to raise awareness about the issue.
One of the last messages posted by Hiba on the Facebook group read: "I've just been informed that the Coast Guard generally stops their search for survivors after 72 hours- which would be tomorrow. PLEASE PLEASE PLEASE urge the Hawaiian Coast Guard to keep the search active for another few days."
Haris and his father flew from Indianapolis, Indiana, where they lived, to Greenland, Cairo, Pakistan, Sri Lanka, and finally to the islands of America Samoa.
A ccording to another report by Fatema Imani in Dawn y oung pilot Haris Suleman was undertaking a historic 30-day journey around the world to raise funds for education in Pakistan when his life was tragically cut short as his plane crashed on Wednesday after take-off from Pago Pago International Airport.
Friends, families and strangers around the world mourned his death but simultaneously hailed his courage and passion for living his dream and thanked him for his efforts to raise awareness about education through The Citizens Foundation (TCF).
Twitter and Facebook users expressed their grief and condolences online, with one saying that among the devastating plane crashes that have taken place this year, this one was particularly heart-breaking.
As Twitter was flooded with messages of "rest in peace" for the 17-year-old, we came across the little known Twitter account operated by Haris. A family member confirmed to Dawn that the account @HarisPls was operated by the young pilot, who documented his journey around the world along with a few shout outs to family members.
It was Hiba Suleman - Haris' sister - who confirmed the young pilot's death through a moving Facebook status update.
TCF mourns young pilot's death: The management at TCF with whom Haris campaigned for education was in a state of shock upon hearing the news of Haris' passing. The teenage boy was raising funds for TCF schools in Pakistan.
"The TCF family is in a state of shock," said the Chief Executive Officer Syed Asaad Ayub Ahmad.
"They [Haris and his father] were two courageous and passionate people, who embarked on this amazing journey to raise awareness about the plight of the less-privileged and to raise funds to support the cause. Their efforts, enthusiasm and commitment will always be cherished."
-------------------------------------------------------------------------------------