Protest in Sacramento Demands End to Gaza Suffering
By Ras H. Siddiqui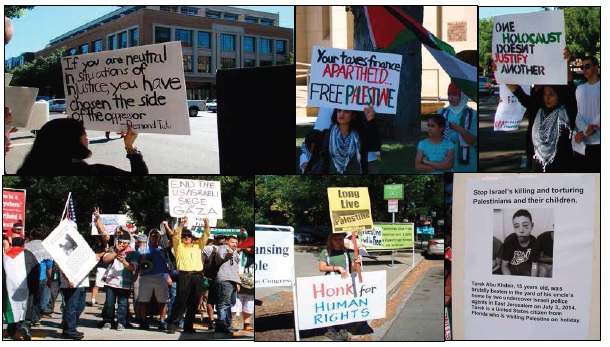 The four corners of 16 th and J Street in Downtown Sacramento were lined with protesters on Friday, July 25 th as the International Day of Al-Quds demonstration drew attention to the plight of the Palestinian people, with close to 400 people raising slogans and holding up signs and banners demanding justice.
This was just one of a series of protests in the area inspired by the latest developments in Gaza, after war between Hamas and the Israeli Defense Forces resulted in civilian casualties including women and children. This 4 pm demonstration was planned to get the attention of the heavy commuter traffic that passes by the intersection. It was a hot 103 degrees Fahrenheit outside and many of the protesters were fasting, since this was also the last Friday of the month of Ramadan, a very special day of spiritual devotion for the world's Muslims.
Before proceeding with this report some confessions of sorts need to be made. The first is that this writing was intentionally delayed here because emotions were running very high and it was hoped that some kind of quick resolution to the situation in Gaza would prevail. But at this time that has still not happened although an Egyptian brokered ceasefire is in the works. Another point of note is that after living for several decades in America and having had both Jewish and Palestinian friends, it has become more and more difficult to look at this conflict from just one perspecive. Conflict fatigue has also set in because one does not know how many things to condemn these days. The mysterious ISIS in Iraq and Syria, the TTP in Pakistan and Boko Haram in Nigeria are just some of the current focal points of our condemnation. And this new exposure in Gaza of the ever-present raw wound of the Palestinian people whose misery never seems to end is now another reminder for us to say something.
"One-two-three-four, no more bloodshed anymore", was one slogan heard as I entered the protest area. "Hey-hey, Ho-ho, the occupation has to go," said one speaker. The often repeated line "Palestine will be free" expressed both confidence and hope as it echoed through the crowd. "We want freedom, we want peace, all across the Middle East," shouted a speaker.
I spoke to one man who did not appear to be a Middle Easterner or Muslim. Carrying a "Veterans For Peace" bag, he was at this demonstration with his wife and daughter. He said that he was here to protest the happenings in Palestine and the illegal land grab taking place there.
The banners at the rally called to "Free Al-Aqsa Mosque". One quoted the late Rev. Martin Luther King Jr. which said that "Injustice anywhere is a threat to justice everywhere." Signs held up included one which quoted Bishop Desmond Tutu of South Africa which said, "If you are neutral in situations of injustice, you have chosen the side of the oppressor." Just to mention another last one here (amongst many others), expressing a strong message, "One Holocaust Doesn't Justify Another."
-------------------------------------------------------------------------------------