CAIR-LA Congratulates LA City on First Muslim Heritage Month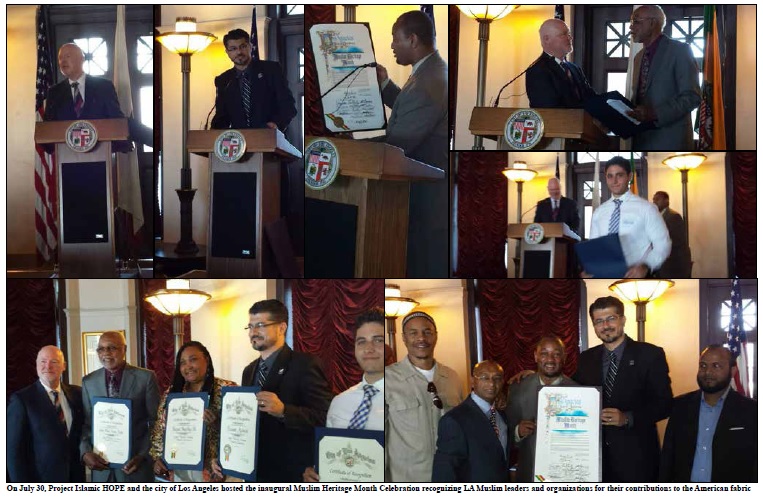 On Aug 1 st, The Greater Los Angeles Area office of the Council on American-Islamic Relations Greater Los Angeles Area office (CAIR-LA) congratulated Project Islamic HOPE and the city of Los Angeles on the launch of the Inaugural Muslim Heritage Month Celebration.
On July 30, Project Islamic HOPE and the city of Los Angeles hosted the inaugural Muslim Heritage Month Celebration recognizing LA Muslim leaders and organizations for their contributions to the American fabric. The celebration took place Wednesday morning in the Tom Bradley Room of Los Angeles City Hall with community leaders, activists and public officials in attendance.
Among the award recipients at the inaugural celebration was CAIR-LA Executive Director Hussam Ayloush, who was recognized for his continued commitment and service to the American Muslim and wider communities of the greater Los Angeles area.
"The greater award is to see the success in bringing communities together and making the city a better place for all its residents," said Ayloush, upon receiving the award. "I am especially thankful to Najee Ali for initiating and proposing this historic idea and to Councilmembers Curren D. Price and Bob Blumenfield for championing the cause and
making the idea a reality."
The celebration also recognized other transformative Muslims leaders in LA including Imam Abdul K. Hasan - Minister,
Maryum "May May" Ali - daughter of boxing champion Muhammad Ali and case manager and program director for Community Build, Inc.; and the UMMA Community Clinic - providing access to high-quality healthcare for all.

LA City Councilmember Curren D. Price spoke to the celebration attendees about his pride in the city and said that this historic celebration is a testament to the city's growing diversity and a sign that communities including American Muslims are thriving and making significant contributions in many fields.
The inaugural celebration began with the passage of an LA City Council Resolution declaring July Los Angeles Muslim Heritage Month. Najee Ali, the founder of Project Islamic HOPE, worked with Councilmember Price to get the resolution introduced. Price and Councilmember Bob Blumenfield (3rd District) sponsored the resolution to implement Muslim Heritage Month recognizing the Los Angeles Muslim community and its contributions to the fabric of America.
-------------------------------------------------------------------------------------