SABAN Organizes Eight Annual Awards and Entertainment Night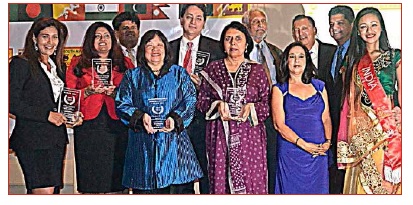 Los Angeles, CA: The South Asian Business Alliance Network (SABAN) held its 8 th Annual Award and Entertainment Night on Friday, June 27, 2014 at the Crowne Plaza Los Angeles Harbor Hotel, San Pedro, CA.
The objective of this event is to build the image, conserve the heritage, and celebrate the business successes of the vibrant and diverse South Asian Americans. The South Asian Americans are dedicated to the creation of the South Asian American Market (SAAM) as an integral part of the national economy. SABAN is working to establish a common goal of economic stability, growth, and prosperity of America and the business world.
It was a successful event attended by leading community members, corporate leaders, and professional personnel. The business showcase segment started at 4 pm; the reception mixer at 6 pm, and the award gala night at 7 pm. Bollywood entertainment began after 9 pm. The main attraction was the award gala dinner at the Ballroom attended by guests, award winners and their family and friends.
The gala event started with the opening speech by Mr Prakash Pancholi, the past-president of SABAN. The chief guest and keynote speaker was Ms Patricia M. Loui, Director of Export Import Bank of USA, Washington, DC. They were joined by Ms. Suja Lowentahl, Councilmember of City of Long Beach, CA; Mr Ali Sajjad Taj, Councilmember of City of Artesia, CA; and Ms Miriam Long of LA Metro. The emcee of the event was Mr Dave Naidu, an entrepreneur and talented social network speaker.
The main attraction was the South Asian Business Awards presentations. The award honorees included Ms Rubina Chaudhary, the Best South Asian Entrepreneur; Mr Moninder Birdi, the Best Service in Excellence; Ms Veera Mahajan, the Best Media Entrepreneur; Moazzem Chowdhury, the Best Bangladeshi American Entrepreneur; Jafar Rashid, the Best Pakistani American Entrepreneur; and finally, Ms Palbinder Badesha, the Best Women Entrepreneur. Ms Patricia Loui received the Chairman's award.
The founder and Executive Director of the event is Mohammed Islam, the Award Committee Chair was Prakash Pancholi and the other event team members were Bruce Ferguson, Anita Ahmed, Tariq Babu, Alima Islam, Laqiya Islam, Salomee Ahmed, and many others.
-------------------------------------------------------------------------------------