A Tribute to Mothers on Mother's Day
By Tahir Ali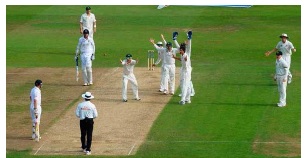 Framingham: It was Mother's Day and cricket enthusiasts decided to play a match, friendly enough so that 13 from each side were allowed to bat just to make everyone's mom happy. The field that they decided to play upon was itself named after a famous mother in the 1800s: Mary Dennison.
A few famous mothers come to mind, religiously speaking Hazrat Mariyam 's miraculous motherhood. Mother Theresa, not maternal but cared for so many children and adults alike deserves an honorable mention on Mother's Day as well. Mothers have played a prominent role in the lives of many. Omkar Prakash Nayyar was born in Lahore on January 16th, 1926. His father was a lawyer and his mother Laxmi Nayyar was a music lover. Laxmi had actually started to learn to play the harmonium in the period when she was expecting OP Nayyar - OP felt that this was the reason he got music in his blood which further evolved into a relentless affinity toward music. It was his mother that supported him in his musical pursuit against the wishes of OP's father.
Imran Khan, who led Pakistan to victory at the 1992 Cricket World Cup, genetically perhaps owes much to his mother Shaukat Khanum. She hailed from the Burki family, who produced famous players like Javed Burki, Majid Khan and several successful cricketers including Misbah-ul-Haq. Imran never forgot his mother's contribution to his success and built the "Shaukat Khanum Memorial Hospital" in her memory.
MCC won the toss and decided to field. Eleven of the MCC team players ascended on the Mary Dennison field. Opening for Shaheen XI were Atif Siddique and lefty Zeeshan Ibadat. Nice and steady batting strokes between the two batsmen, scoring 13 and 10 respectively until caught off on Sayaljit and Swarooph's fine deliveries. Syed Najeeb came one down and stayed on the pitch longest, with a handsome score of 37 runs, that included 2 sixes and 2 boundaries. Irfan was run out immediately for no score, until Shujaat Osmani joined Najeeb, but was stumped for 6 runs, followed by Moin as he was caught behind for 4 runs, joined finally by Najeeb who was run out. Umair kept the score running and remained unbeaten with 11 runs, Haseeb clean bowled on Arvind's first ball, and Omer stumped for 3, Zakir Ali remaining not out. Tahir Ali, Rafique Awan and Yusuf Uddin did not get a chance to bat.
Shaheen XI gained 23 in extras, totaling a 107 runs in 20 overs with five wickets in hand.
Mathworks Cricket Club had a worthy target to reach and batted rather cautiously. MCC's first setback came when opening batsman Chaitanya was caught on Zakir Ali's fast pacer. Najeeb bowled the second opener Karthik for 4 runs. Similar to Shaheen XI's one down batsman, Hari stayed on the wicket with 18 runs to his credit, before Shujaat ended his innings. AP scored one and Rafique Awan got his wicket. Rohit (15) was caught off Omer's bowling. Both Rohit and Hari finished with a fine partnership and between the two brought the MCC score close to the target of 108 runs needed to win. The run rate picked up as Omumitra, Didesh and Sayaljit(14 runs that included a six) played nicely and carefully, until Moin was able to dismiss all three in the same over. But MCC were not prepared to give up yet, and the tail-enders made sure of that. So between CNU, Koundi and Ganesh another 23 runs were added to the score, tipping over the century mark. It was getting too close for comfort before Omer and Zakir Ali with fine economical bowling kept the score 103. So MCC called in the reserve Swarooph and Kiran, but scored 104 runs ( just shy of 3 runs) in 20 overs, with Ganesh and Kiran still at the crease.
Overall, fine fielding and batting from both sides. Great sportsmanship was seen on Framingham's Mary Dennison field - kudos to both sides for a nail-biting game - Mother of all games.
While fielding I bumped into the bench on long off, and I think my mother in heaven called out, "Kaheen chot to nahi aaee mere laal."
-------------------------------------------------------------------------------------