Farrah N. Khan Appointed New Commissioner of Irvine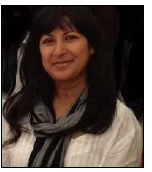 The City of Irvine has five Commissioners appointed by the five-member City Council to serve on the Community Services Commission. Recently, Farrah N. Khan, a resident of Irvine, was appointed by Councilmember Beth Krom as the newest Commissioner. "I'm very excited about my new role and look forward to working with the city, businesses and community", said Commissioner Khan.
The role of the Commissioner is to act in an advisory capacity to the City Council in matters pertaining to the acquisition, capital improvement and development of land and parks, including, cultural, library and youth facilities. The Commissioners also consider the proposed annual budget for the Community Services Department and make recommendations to the City Council and City Manager.
"This is a great position to be in, to really learn what the city is all about", stated Farrah. "Being appointed during a non-election period meant I had to just dive into the position and get going from the first day."
Commissioner Khan has already begun touring the open spaces and parks. "I really want to hear from the community about what they like and dislike, there's nothing more important than knowing that from the people you serve." In addition to working with City employees, land developers and the community, the Commission also hears and reviews reports from the following Committees:
Irvine Aquatics Advisory Board, Sports Committee, Child Care Committee, Irvine Children, Youth and Families Advisory Board, Irvine Residents with Disabilities Advisory Board, Irvine Child Care Project, Irvine Child Development Center Operating Corporation, Senior Citizens Council, Coastal Greenbelt Authority, Nature Reserve of Orange County and Irvine Adult Day Health Services.
"It is an honor and a great responsibility to hear proposals from developers and the community and to respond and vote for the best interest of the residents of Irvine", stated Commissioner Khan. Farrah was appointed after Shiva Farivar resigned after serving eight years as Commissioner. "I have some big shoes to fill, Shiva is a great asset to the city and I'll be working closely with her."
Besides reviewing plans and proposals, Commissioner Khan stated, "I'm looking forward to inviting the residents to open space tours with me and much more!"
The Community Services Commission meets on the 1 st and 3 rd Wednesdays of the month in the Council Chambers at City Hall.
Farrah N. Khan is an entrepreneur and philanthropist. She has founded First Drops, a children's interfaith organization that has received awards from many cities in OC plus awards from the Senate and Congress. She has also founded Muslimahs for Justice and Peace, a Muslim women's movement responding to the various world crises.
-------------------------------------------------------------------------------------