Pakistani Ukrainian Oligarch Led Opposition to Pro-Russia Yanukovych
By Riaz Haq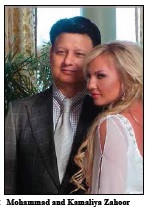 Oligarchs have shaped politics in post-Soviet Russia and other former Soviet republics including The Ukraine since the breakup of the Soviet Union in 1991. One such oligarch is Karachi-born Pakistani Ukrainian Mohammad Zahoor, a member of growing Pakistani diaspora which is already the world's 7th largest. He owns Kyiv Post newspaper which is widely believed to have led the campaign to topple pro-Russian President Viktor Yanukovych .
In 1974, Zahoor left Karachi, Pakistan, for the Soviet Union to study metallurgy in Donetsk in the Ukraine. Though he moved back with his Russian wife to work at Pakistan Steel Mills plant in Karachi upon graduation but he didn't stay there long.
"Having a Russian wife limited my career development there," he told Newsweek . "The secret services were also very active during the '80s, and I thought it better to leave." He moved to Moscow to work for a Pakistani steel company in the late '80s, and hasn't looked back since.
He learned Russian and metallurgy well. Then he eventually found a way to apply those skills in Ukraine, one of the world's top 10 steel-exporting nations. Zahoor also displayed a talent for knowing when to get out of a business, as he did in 2008 by selling his Donetsk steel mill for a top-drawer price of $1 billion, according to Kyiv Post . He has since invested in media and real estate businesses.
Zahoor divorced his first wife to marry Kamaliya (born as Natalya Shmarenkova in 1977) in 2003. Kamaliya won Mrs World title in 2008. She is involved in charitable work in both Ukraine and Pakistan. They live in a mansion designed to resemble Dubai's hotel Burj al-Arab in the suburbs of Kyiv. The couple had twin daughters last year. Zahoor has two grownup children, Arman and Tanya, from his previous marriage.
Zahoor and Kamaliya have starred in a Fox Entertainment reality show "Meet the Russians" . Kamaliya has a singing career with hit singles like "Crazy In My Heart," "Rising Up," and "Butterflies," and she is also famous for singing duets with Russian pop star Philipp Kirkorov.
-------------------------------------------------------------------------------------