CAIR-LA Congratulates First Graduates of Muslim Gamechangers Network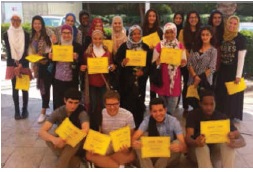 Anaheim, CA: The Council on American-Islamic Relations Greater Los Angeles Area office (CAIR-LA) June 10 congratulated the first graduates of its new Muslim Gamechangers Network (MGN). On Sunday, June 8, 35 Muslim high school students celebrated the successful completion of the four-month social justice training program at a graduation ceremony hosted at the Islamic Center of Irvine (ICOI).​
"I'm very proud of the first graduating class from the Muslim Gamechangers Network," said Zienab Abdelgany, youth development coordinator at CAIR-LA. "The journey has just begun as we set out to apply the things we've learned from each other throughout the course of this program."
Friends, family and community members attended the graduation ceremony. Student participants hailed from high schools across Irvine and neighboring cities including Beckman High School, Northwood High School, University High School, Woodbridge High School, and Fountain Valley High School, among others.

From January to June, students attended weekly interactive sessions hosted at ICOI to learn the tools that would equip them to become better community advocates and leaders. They delved into subjects including: understanding American Muslim history, learning how to deconstruct and combat stereotypes, examining their family histories, learning about economic justice and injustice, organizing a political campaign, building coalitions, and engaging government and media bodies effectively.
During the program, participants shared reflections of how it transformed their worldview and opened their hearts to service and engagement with the greater community.

"One of my favorite parts of MGN was the field trip that we took to Manzanar," said Salma Nasoordeen, a Fountain Valley High School student. "We broke out into discussion groups and through our conversations with former relatives of Japanese American internees, I discovered that we as Muslims are not alone and other people are willing to support Muslims and Muslims are willing to support other communities."

The graduation ceremony's keynote speaker and MGN guest facilitator was Yousef Baker, a doctoral candidate in sociology at the University of California Santa Barbara. Baker facilitated one of the MGN sessions in which students learned about the global economy. In his keynote address, he talked about the value of fostering a sense of community through good works.

"Home is the community we build through service that is based in solidarity, compassion, and empathy," said Baker in his keynote address.

CAIR-LA would like to thank the Islamic Center of Irvine for hosting the program, and helping with the curriculum development alongside the Muslim American Society Greater LA area chapter.

MGN is a four-month social justice training program for Muslim high school students that equips participants with the tools to critically understand their world, effectively challenge injustice, and build legacies of positive change in their communities. The rotational program consists of weekly interactive sessions and field trips centered on themes of identity, history, social responsibility, and organizing tools, all grounded in an Islamic worldview. The first rotation was held at ICOI; CAIR-LA will announce the location of the second rotation in the near future. For details, please visit the MGN website at http://www.muslimgamechangers.com/
-------------------------------------------------------------------------------------