Dr Rukhsana Chaudhry of George Washington University Visits Saba Homes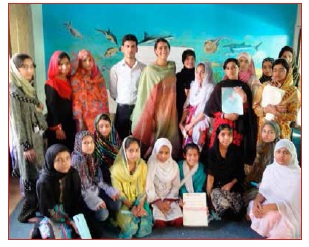 During a two-week visit to Saba Homes in Rawalpindi, Pakistan, Dr Rukhsana Chaudhry, a Clinical Psychologist specializing in global mental health issues and teaching at George Washington University, partnered with CDRS Pakistan to provide group counseling to girls between the ages of 12 and 16 at Saba Homes, a home for girls who lost their parents or families.
Some of these girls faced trauma before and after their losses. Each of these girls expressed loneliness and confusion when discussing their struggles in their daily lives. However, they also expressed incredible resilience and determination to reach their goals in life.
Utilizing a "Girls Only Safe Spaces"model, each of the girls shared feelings they had not shared before about themselves and their histories and began to write their own story, which included the realization of their goals. This model is based on self-esteem building and empowerment exercises designed for girls who have suffered losses and/or trauma.
By the end of the group therapy model, each girl learned how to identify their own unique strengths and express feelings where the other girls served as their main support.
Dr Chaudhry worked with 18 girls at Saba Homes.
-------------------------------------------------------------------------------------