Sacramento Muslims Hold Fundraiser for District Attorney Candidate Schubert
By Ras H. Siddiqui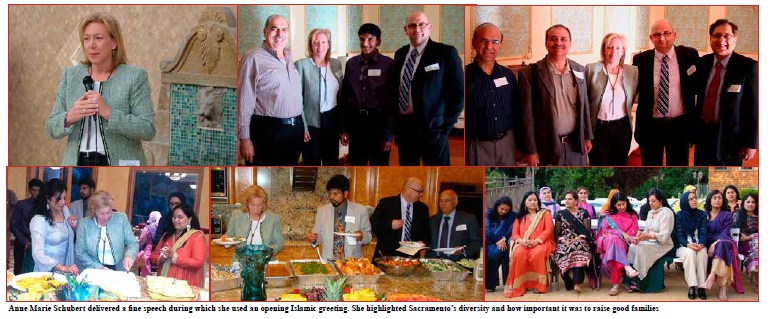 The Anne Marie Schubert campaign for Sacramento County District Attorney took a turn towards the Muslim community in the region as a fundraiser arranged by the Sharif family, Mohammad Asif Sattar and Dr Mohammad Tariq, gathered an impressive guest list of about 100 people at the Sattar residence in Fair Oaks on May 4 th to assist in the campaign. Sacramento's long-time District Attorney, the very popular Jan Scully is leaving after two decades of service and a three-way race for the office is now between Schubert, Deputy Attorney General Maggy Krell and former prosecutor Todd Leras.
Ann Marie has been working at the DA's office since 1996. She has experience, has been a deputy district attorney and a Sacramento County prosecutor with a solid track record of enforcing the law especially in trying some very tough cases in the county sexual assault and child abuse unit.
Since Sacramento County is known for its diverse population in which the Middle Eastern and South-Asian Muslim community has been on favorable radar of local law enforcement (due to the relatively low crime rates present within them), it comes as no surprise that the community has enjoyed the support of local authorities. Muslims have supported current DA Jan Scully and Sacramento County Sheriff Scott Jones over the years and since they too endorse Anne Marie Schubert for this position in the upcoming elections, some members of the local community have decided to follow their lead.
After a social hour where many participants got a chance to talk with Schubert one on one, the formal gathering was addressed by Khalid Saeed, Mohammad Asif Sattar, Rashid Ahmad, Mahmud Sharif, Bassam Amrou and Anne Marie Schubert herself. Khalid said that the Muslim community needs to come out of its shell and take an active part via organizations like the American Muslim Voice Foundation. He stressed the need to go out and get to know neighbors as a starting point to community building. "We live in a wonderful community," he said. Host Mohammad Asif Sattar took the opportunity to warmly welcome everyone. Rashid Ahmad next said that Anne Marie has her heart in the right place and is a fair person. He added that we are a part of this society and need to be part of the solution and our young people certainly need to get more involved. Mahmud Sharif took the opportunity to thank the host and his wife for opening their lovely home for this event. He also stressed the importance of staying involved in the community. Bassam Amrou mentioned that our community has low crime rates and that the event was a fundraising for which we need to be generous.
Anne Marie Schubert next delivered a fine speech during which she used an opening Islamic greeting. She highlighted Sacramento's diversity and how important it is to raise good families. "We have an obligation to protect all cultures in the community," she said. She said that Muslims have the same rights as everyone else. She did somewhat mix Islam the religion and Muslims its followers in segments of her speech but her message was still conveyed quite clearly. She said that for their numbers, Muslims do not stand out in the local criminal justice system and there is no gang activity related to them. She said that after talking with people here she could gather that many people in our community were highly educated individuals (including the women), and that we are people of faith. "You raise healthy families," she said. And if we can raise healthy families we can reduce crime, she added. She said that she was honored at having been invited and answered a number of questions from the audience.
-------------------------------------------------------------------------------------