American Doctor Killed in Pakistan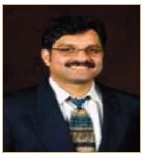 Islamabad: An American doctor was shot and killed in eastern Pakistan on Monday.
Mehdi Ali Qamar, a cardiologist who practiced in suburban Columbus, Ohio, had traveled to Pakistan's Punjab Province late last week to volunteer at a local heart clinic and visit relatives, according to Ahmadi community leaders. At around sunrise on Monday, he went to a cemetery to visit the graves of several family members.
As he neared the gate, two men on motorcycles shot him 11 times in front his wife and toddler son, officials said. Police had no suspects and did not know the motive for the killing, a spokesman said.
But a photograph of Qamar lying on the ground in a blood-soaked shirt was posted on Twitter, and it made him the latest symbol of the persecution facing members of the Ahmadi sect in Pakistan. Friends and relatives said Qamar, 50, grew up in Pakistan but moved to the United States more than a decade ago to pursue his medical career.
"It is a major crime against humanity that a doctor who came a few days back to serve his country has been killed," said Saleemuddin, a spokesman for Jamaat-e-Ahmadiyya, the group that represents Pakistan's Ahmadi population.
"It's injustice upon injustice, and it's getting no attention from the government," said Qasim Rashid, national spokesman for the Ahmaddiyah Muslim Community USA. "There is no accountability for acts of terrorism, and this has empowered the extremists and emboldened them..."
Dr Qamar, according to another report, is survived by his wife and three sons. His wife, his wife's cousin, and his youngest son, 2 years old, were walking with him when he was killed, said police and community members. The eldest son, a 17-year-old high-school student, didn't travel to Pakistan with the family and remained in the U.S. because of exams.
Shantanu Sinha, a cardiologist in Lancaster who worked with Dr Qamar for the past 10 years, described him as a person who gave generously to his local community in Ohio. Dr Qamar worked at a vein-care center called Vanishing Veins Ohio and at a cardiology office known as CardioVascular Specialists near the local hospital.
"He was one of the most honest, ethical and not-a-bad-bone-in-his-body kind of person," said Dr Sinha, adding that Dr Qamar returned to Pakistan to provide free cardiac care. "He was very giving."

-------------------------------------------------------------------------------------