A Befitting Tribute to Mayor Thomas M. Menino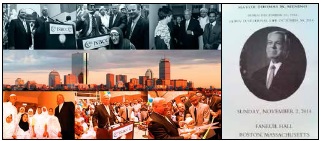 Boston: Thousands of people from Boston and surrounding towns braved the weather and descended on Faneuil Hall to pay their respect to Thomas M. Menino, Boston's longest-serving mayor.
I missed the train by a few seconds in Westboro, so we raced to the next stop in Southboro hoping to catch it there but also missed that by a fraction of a minute. Seeing my resolve my family decided to drive me to Faneuil Hall despite the Nor-Easter storm warning.
Because of the overwhelming turnout, members of the Menino family were taking turns in greeting the well-wishers. Menino's brother-in-law and his son were thanking whoever came in to pay respect on behalf of his sister, Angela Menino.
Some of us felt even more obligated to attend just for the simple reason that Tom Menino was very instrumental in the establishment of the Islamic and Cultural Center (ISBCC). Boston lost a legend, but we also lost a great friend of the Muslim community.
The letter of condolences from Worcester Islamic Centers (WIC and ISGW), Wayland and others echoed much of the same sentiments and remarks released by ISBCC: "He stood up for all of our communities, including our Boston-Muslim community. When the forces of darkness tried to slander the ISBCC and prevent its construction, he stood by us, even when many had given up. Thank you, Mayor Menino, your legacy shall remain Boston Strong."
My interview with Boston Globe revolved on the establishment of ISBCC. Similarly, I confided with Ally Donnelly of New England Cable News (NECN), and told her that my wife, daughter and I am here to show our gratitude. Ally was impressed that we came out all the way from Westboro in this snowy weather. "In way I am glad the weather is bad, because that proves whoever is here - including us - is really here for the Mayor."
A Portuguese woman standing in line next to me couldn't express her feelings for she did not speak English, but her eyes welled up with tears as she attempted to talk about the mayor.
William and Caron Cambell were pleased to be there. They summed up their reasons for weathering the storm, "He had no aspirations and he made Boston a world class city. He was the man of the neighborhood, " William told me, "Tom was so popular that no one ran against him in re-elections."
Earlier, Secretary of State and former Senator John Kerry paid his respect. Senators and others did the same. Hillary Clinton campaigning for Senator Jeanne Shaheen and Governor Maggie Hassan in Nashua took advantage of the proximity and paid respect to Tom Menino. Vice President Joe Biden was scheduled to attend the private funeral service on Monday November 3rd at the "Most Precious Blood" Church in Hyde Park where Tom Menino was baptized. It is unclear if President Obama will attend, nevertheless, we concur and resound with President Obama - "Bold, big-hearted, and Boston strong, Tom was the embodiment of the city he loved."
The "USPS" pledge of "Neither rain, nor snow, nor sleet, nor hail shall keep the postmen from their appointed rounds" apparently took a new meaning when the same motto applied to the people who came to Faneuil Hall to pay respect to a legend.
We pray for the entire Menino family that they overcome this loss speedily and take solace in the thought that the people of Boston, Massachusetts and the nation remember the family in their prayers.
-------------------------------------------------------------------------