CAIR San Francisco Annual Dinner Draws Large Crowd
By Abdus Sattar Ghazali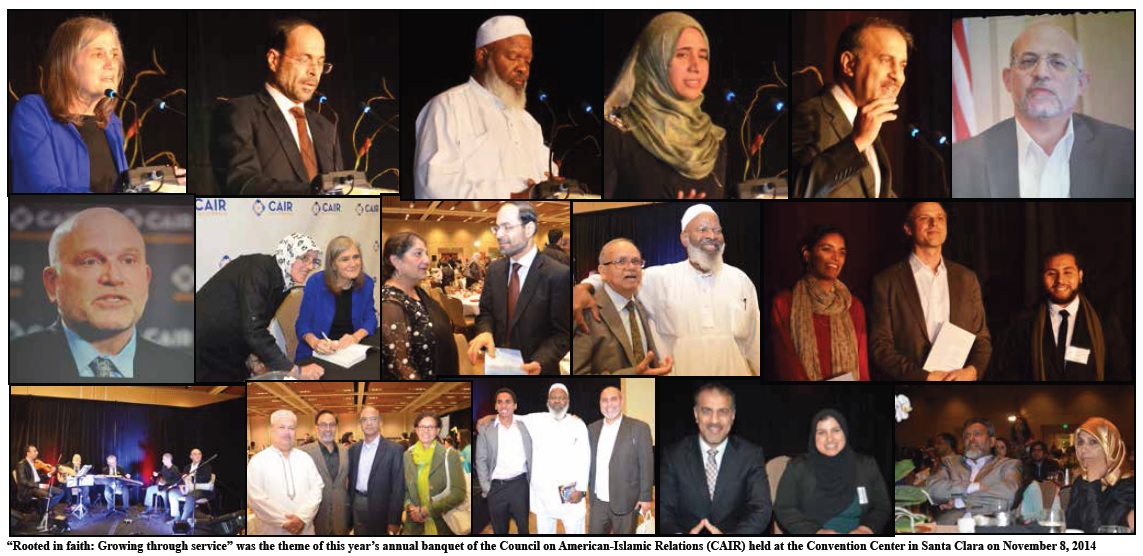 "Rooted in faith: Growing through service" was the theme of this year's annual banquet of the Council on American-Islamic Relations (CAIR) held at the Convention Center in Santa Clara on November 8, 2014.
Amy Goodman, the host of Democracy Now, was the keynote speaker. Addressing the 1,000 plus guests, she emphasized the importance of popular movements to preserve civil rights. Amy recalled that Nihad Awad, the Executive Director and co-founder of the Council on American-Islamic Relations (CAIR), was among the five most prominent American Muslims who were under NSA surveillance. She pointed out that leading US civil rights leader Martin Luther King Jr. was also a victim of NSA's dragnet surveillance.
She praised the role of whistle blowers whose revelations often forced the government to change its policies. For example. after the Associated Press revealed the New York Police Department's blanket surveillance of the Muslim community and Mosques, the NYPD was forced to dismantle its surveillance section known as the Demographic Unit. She stressed the importance of independent media since the mainstream or corporate media is often biased. It may be pointed out that Goodman is the first journalist to receive the Right Livelihood Award, widely known as the 'Alternative Nobel Prize' for "developing an innovative model of truly independent grassroots political journalism that brings to millions of people the alternative voices that are often excluded by the corporate media.
Nihad Awad, the executive director of CAIR, briefed the audience about his organization's work since its establishment in 1994 in Los Angeles. Under Awad's leadership, CAIR has grown into a national institution. From humble beginnings in 1994, CAIR now has 28 offices across the country and employs 109 staff members, including 29 attorneys and 47 media spokespeople.
Imam Siraj Wahhaj of Masjid Al-Taqwa in Brooklyn, New York, who launched the fundraising drive, stressed the importance of CAIR's civil rights advocacy efforts for the Muslim community in the post-9/11 America.
Imam Wahhaj, who was the first person to give an Islamic invocation to the US Congress, urged the guests to donate openhandedly. His appeal motivated the audience to contribute generously to meet the target of $ 250,000.00. A large number of people donated anonymously.
Zahra Billoo, Executive Director of CAIR-SFBA, who was the spirit behind the successful banquet, recalled her first donation to CAIR when she was a college student. She said it took one year to meet her donation commitment.
Athar Siddiqee, President of CAIR-SFBA, welcomed the guests and said that 2014 was a very busy year for his organization. He said he was proud to say that CAIR-SFBA has surpassed its record of handling civil rights complaints and published a civil rights report.
The CAIR banquet program included screening of two videos about the work of CAIR national and CAIR-SFBA in the last 20 years.