Pakistani Artist Wins Prestigious ArtPrize Award
By Ismail Sheikh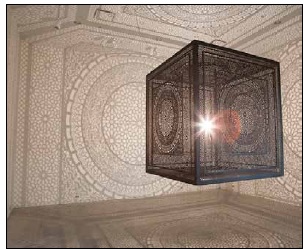 Pakistani artist Anila Quayyum Agha's 'Intersections' has won the prestigious ArtPrize award along with a whopping $300,000 in prize money.
Agha's three-dimensional creation ' Intersections' is a laser-cut 6.5 feet cuboid made of wood in which the geometrical patterning along the lines of Islamic architecture, associated with certitude, is explored in a way that reveals its fluidity.
According to the artist, her project takes the seminal experience of exclusion as a woman from a space of community and creativity such as a Mosque and translates the complex expressions of both wonder and exclusion that have been her experience while growing up in Pakistan.
"The wooden frieze emulates a pattern from the Alhambra, which was poised at the intersection of history, culture and art and was a place where Islamic and Western discourses met and co-existed in harmony, and served as a testament to the symbiosis of difference," said Agha.
Her creation was not only awarded the Public Vote Grand Prize worth $200,000, but was also jointly awarded the Juried Grand Prize along with Sonya Clark for her creation 'The Haircraft Project'. Clark and Agha will each be entitled to half of the $200,000 prize money.
Commenting on Agha's creation, ArtPrize Executive Director Christian Gaines noted, "The push and pull between the popular and expert approaches to assessing art is what makes the parallel award structure so intriguing. Over the last couple of weeks we've seen this conversation grow and change, showing us that it is possible to find a consensus, to find that sweet spot where popular and expert opinions coincide."
Agha was born and raised in Lahore, where she completed her BFA in Textile Arts in 1991. Currently she is working as the Associate Professor of Drawing at Herron School of Art and Design. - Courtesy The Express Tribune