Islamic Relief USA Holds Fundraiser for Flood Victims
A Pakistan Link Report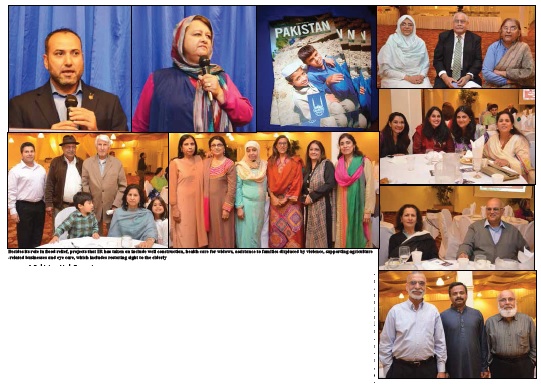 The Islamic Relief USA (IR-USA) organization is very active, both here in the US and overseas in many countries. Where there is a need Islamic Relief is there and since none of the work that it does can be carried out without resources, its fundraisings have become a part of many social calendars in major cities in America.
On October 18 th at the Chandni Restaurant in the San Francisco Bay Area city of Newark, California just over 100 invited guests of IR-USA gathered to help victims of the devastating floods that have recently hit Pakistan and Kashmir.
It is good to note that the momentum started in Sacramento last month (in which IR-USA was one of the participants), is being continued by the community, said Ras Siddiqui. Discussing the issue, Raana Faiz, one of the main people to assist IR-USA in this effort at Chandni, said that not enough emphasis has been placed on this tragedy in either the mainstream or ethnic media that reflects the magnitude of the need that these floods have created. And that observation is not off the mark. There has been a great deal more attention paid to political protests (dharnas) in Pakistan recently than IDPs or flood victims recently and that emphasis needs to change, said Siddiqui.
Going back to the fundraiser, the formalities started off with a recitation from the Holy Qur'an by Hamayoun Jamali, Regional Head of IR-USA. Shaista Khan, Pakistan campaign Lead and Development Coordinator IR-USA, next took the podium and proceeded with detailed information about the flood tragedy which has unfolded in Pakistan, Kashmir and India due to heavy rains in September. Major rivers such as the Chenab, Indus, Jhelum, Ravi and Sutlej have overflowed, killing hundreds, making tens of thousands homeless and impacting many more. Tens of thousands of houses have been damaged, she said. Over 1.7 million acres of crops were damaged and more than 2.2 million people are affected.
Shaista Khan continued by explaining how Islamic Relief is responding to this tragedy and supporting flood relief in Pakistan and Azad Kashmir in particular. Local IR teams in the region are supplying tents and cooking supplies and distribution of these items has begun in Azad Kashmir and is planning to expand this into Punjab for which it needs additional resources for which it is appealing to US-based donors.
Khan explained that Islamic Relief has been working in the region since 1992 and has been providing a variety of services from more than a dozen offices and field units in Pakistan and India. Besides its role in flood relief, projects that IR has taken on include well construction, health care for widows, assistance to families displaced by violence, supporting agriculture related businesses and eye care, which includes restoring sight to the elderly. She said that in the past five years, Islamic Relief USA has provided more than $15 million in aid to Pakistan. It helped thousands of people during the 2010 floods in Pakistan and helped rebuild communities for years afterwards.
To conclude, the humanitarian crisis caused by this flooding is very real. Pakistani Americans need to shift their attention here too even though there are other headline-grabbing events taking place in the country of origin. It is time to continue this effort to help.
-------------------------------------------------------------------------