15 Young Muslim Stars Shine in Hollywood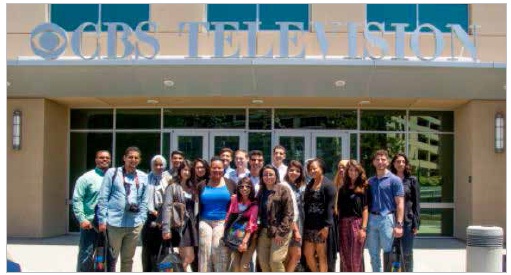 Last week, MPAC held its 9th annual Young Leaders Hollywood Summit. Spanning 4 days, the Summit allows emerging artists to gain an insight into the entertainment industry. This year, 15 college students and university graduates from around the country, convened in Los Angeles to engage in meetings with prominent executives in the Hollywood industry.

The delegates met with several of Hollywood's leading media and entertainment companies, including CBS Television, Sundance Institute, YouTube and Buzzfeed. The young leaders asked questions about entering and making it in the Hollywood industry, as well as toured studios and audio/video production sets.
Lina Mohammed, an actress from Dallas, TX, credits the summit to renewing her interest in acting.
"People told me that the way I look and dress, I'm not going to make it," Mohammed, who wears the hijab, said. "I gave up for a while after that. But now I feel ready to try it again and I know I'll make it one day insha'Allah."
The delegates also engaged in internal sessions with summit alumni. These sessions not only provided a Q&A forum for the delegates, but also gave them the opportunity to hear from those who had previously been in their shoes.
"If this is your passion and you're willing to work hard, you have a chance at making it in this industry," 2013 Summit alumni Atif Malik said.