Pakistan Independence Day 2015 Season Approaches in California
By Ras H. Siddiqui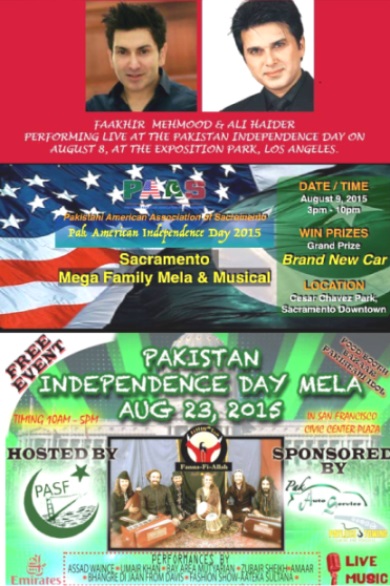 Pakistanis and their pre-Partition ancestors have been in California for over a century now. They have been celebrating religious occasions here for quite some time and Pakistan's Independence Day which has really caught on within the community in the past 25 years.
The reason for publicly celebrating August 14th, the day of Pakistan's birth here in California, moves beyond nostalgia today and can be attributed to wide scale immigration and the fast growth in numbers of the Pakistani-American community in the past 40 years. And as celebration season approaches once again in August, at least three or more large events are planned in our Golden State. The first will be held on Saturday, August 8 th at Exposition Park in Los Angeles (3 PM to Midnight) where the entertainment headliners will be Faakhir Mehmood and Ali Haider. The second will be in Sacramento on Sunday, August 9 th at a new venue, the Cesar Chavez Plaza Park in downtown, Sacramento (3pm to 10pm) where the entertainment will be headlined by Fariha Pervez and Zaheer Abbas. And last but not least, the San Francisco annual event once again returns to the Civic Center on August 23 rd (10 AM to 5 PM) with entertainment headlined by the phenomenal California Sufi-Qawwali group Fanna-Fi-Allah.
In California the Greater Los Angeles area today has the largest concentration of Pakistani-Americans in the State of California. It is little wonder that Pakistan Link originated there and is still headquartered in that area. And one is sure that it will be the biggest event out of the three on August 8 th. In Northern California this writer started covering the Pakistan Association of San Francisco-Bay Area event over 20 years ago. In the north, this organization can be called the "original" area Pakistani Independence Day event organizer because at one time it was the only one held in the entire region. Attendance at some of their celebrations topped 10,000 in San Francisco, and a great many who attended came from the inland areas of Sacramento, Yuba City, Stockton, Lodi and Live Oak. But our generation has become older and numbers of Pakistanis inland have themselves increased to the point where a Sacramento event had to be added. The oldest Pakistani organization in California actually originated in Sacramento and centered itself around the Downtown Muslim Mosque on V Street, which has hosted a number of Pakistani dignitaries including Prime Minister Liaquat Ali Khan.
For the Los Angeles event please check the pages of the weekly Pakistan Link newspaper. The Pakistan Association of Sacramento (PAAS) is on Facebook and more information on the Sacramento event can be found there. For the San Francisco event please visit http://pasfbayarea.org/ for complete details. Please bring your non-Pakistani friends to these free events. They should be a lot of fun!