Nihad Awad Gets National Recognition

Anaheim, CA: The Greater Los Angeles office of the Council on American-Islamic Relations (CAIR-LA) has conveyed heartfelt congratulations to CAIR National Executive Director Nihad Awad for his national recognition. The Los Angeles Times has named Nihad Awad as one of the nation's " new civil rights leaders."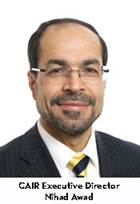 CAIR was listed along with a number of other civil rights activists "fighting battles old and new" in the newspaper's coverage marking this month's 50th anniversary of the historic march on Selma.
The entry for Awad noted that he "has been an outspoken opponent of blanket surveillance of Muslims." He is quoted saying: "I'm outraged as an American citizen that my government, after decades of civil rights struggle, still spies on political activists and civil right activists and leaders,". . ."I'm really angry that despite all the work that we have been doing in our communities to serve the nation, we are treated with suspicion."
"Through my work with Nihad Awad for almost 20 years, I can personally vouch that Awad is one of the nation's most dedicated and 'New Civil Rights Leaders,' " said CAIR-LA Executive Director Hussam Ayloush. "The LA Times recognition was rightfully merited. I am proud to have him as a colleague and mentor. Our country and especially the American Muslim community are fortunate to have a servant leader of his caliber striving to ensure liberty and justice for all people."
"As America recalls the historic significance of the march on Selma, we welcome the recognition of our nation's latest generation of civil rights leaders," said CAIR National Board Chair Roula Allouch.
"Acknowledgement of Nihad Awad's contributions - and by extension those of CAIR - to the continuing struggle for civil rights is well-deserved."