Urdu Academy Pays Tributes to Jamiluddin Aali
By Abdus Sattar Ghazali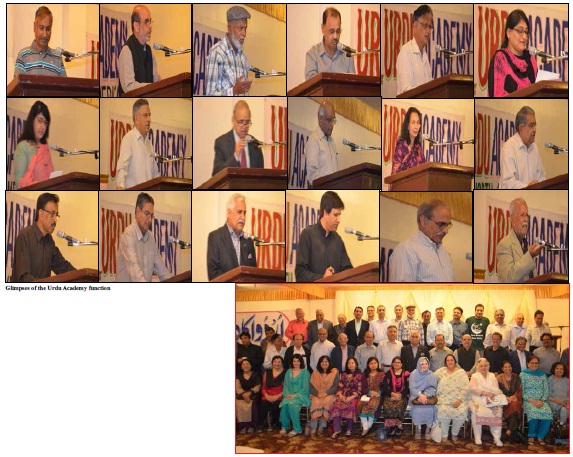 The Urdu Academy of North America dedicated its March 15, 2015 monthly literary event to the life and work of a prominent Urdu poet, Jamiluddin Aali. The event was held at the Chandni Restaurant in Newark, CA. Moiz Khan was MC of the literary event. Syed Aslam, a senior community member, presided over the proceedings.
This was the first time Moiz Khan was presenting an Urdu Academy program. His excellent performance drew wide applause.
Moiz Khan presented a well-researched maqala on the life and work of Aali while a number of Urdu enthusiasts recited his poetry which included Irshad Khan, Ishaq Nagpurwala, Khalid Rana, Kausar Saiyed,Lubna Manzar, Manzar Salam, Mubeen Khalil, Nagesh Avadhany, Shamsun Nahar, Tajwar Shahana, Tasadduq Husain Attari, Zafar Shah and Abdus Sattar Ghazali.
Born on January 20, 1925 in Delhi in a literary and aristocratic family, Aali embarked on his poetic journey at an early age. He passed the CSS examination in 1951 and joined the Pakistan Taxation Service. His career saw many ups and downs and he joined the National Bank of Pakistan as its vice president in 1967 and retired from it as its senior executive vice president in 1988.
On 30 September 1944, Aali married Tayaba Bano. They have five children (three sons and two daughters).
In poetry, Jameeluddin Aali has been an innovator par excellence, in so far as he has revived the classical form of doha and adapted it into Urdu imparting a distinct South Asian Muslim cultural flavor while retaining its beauty. A doha is a form of self-contained rhyming couplet in poetry. Dohas are generally lyrical and appeal to the intellect or sometimes even the emotions of the reader. Among the most famous dohas are those of Sarahpa, Kabir, Rahim, Tulsidas, Jamiluddin Aali and Surdas.
Besides doha he has also written ghazals, poems, lyrical ballads or geets and patriotic songs. His long poems reflect a unique discourse on great scientific and philosophical themes, blended with aesthetics. At mushairas, Aali recited dohas in his melodious voice, which became an instant hit and made him one of the most sought-after poets at poetry recitals.
Jameeluddin Aali is perhaps one of the greatest living authorities on Urdu language and literature, and wrote forewords on scores of rare classics reprinted under his supervision at Anjuman Taraqi-i-Urdu, which he headed at one time.
He wrote a number of national songs. His most famous Jeeve Jeeve Pakistan was released on PTV on August 14, 1971. Shahnaz Begum was the singer while music was composed by Sohail Rana. The song has managed to stay in the hearts of thousands of Pakistanis to date; there is no child, adult or anyone who has at some point lived in Pakistan and does not sing along to 'Jeevay, jeevay Pakistan' when it is aired every year on the 14th of August.
The many awards he has received include the President's Pride of Performance, Hilal-i-Imtiaz, Canadian Urdu Academy Award, Sant Kabeer Award and Kamal-i-Fun Award. Besides, he has received honorary DLitt degrees from a private university and Karachi University.
Naseer Ahmad related a very interesting story in Dawn newspaper about his relationship with Baba-i-Urdu, Maulvi Abdul Haq: Aali was abroad in 1962 when he received a telegram that Maulvi Abdul Haq, reverently called Baba-i-Urdu, was on his deathbed and wanted to see him. He cut short his visit and returned to be with the man who had devoted his life to the cause of Urdu. "He handed over to me the reins of Anjuman Taraqqi-i-Urdu he had founded more than 50 years before, and made me its honorary secretary," recalls Aali. He has held that position since, but has not yet found a suitable person to don the mantle after him. Under him, the Anjuman has published more than 300 books. He also seeks PhD theses of Karachi University's Urdu Department for publication and pays for them.
"In recognition of his great services to the Urdu language, I found it befitting to bury Maulvi Sahib on the Anjuman's premises. I knew it was not legal and even the property had not been transferred to the Anjuman's name. But I asked a group of students to dig up a grave. The death had been announced through radio and newspapers and a mammoth crowd had gathered on M.A. Jinnah Road for Maulvi Sahib's funeral.
"After the prayer, when the funeral procession moved towards the grave site, the then commissioner inquired where we were heading. When I explained it to him, he was incensed. 'No', he said. 'You can't bury him on the Anjuman's premises. That's not a burial place'. I said, 'Well, that was Maulvi Sahib's will. But if you think it is illegal, you make the crowd understand your viewpoint.' And I grabbed the mike and announced through the public address system that the commissioner was not allowing the burial on the Anjuman premises. The crowd became furious, the commissioner panicked and escaped the scene, saying that he would have the body exhumed and buried somewhere else.
"A group of students kept a day-night vigil on the grave for 40 days when we had it cemented, and averted the row." He, however, admits that the 'will' claim was just an excuse to ensure Baba-i-Urdu's burial."In fact, there was no such will left by Maulvi Sahib", says Aali.