Karachi se Lahore Hollywood Premiere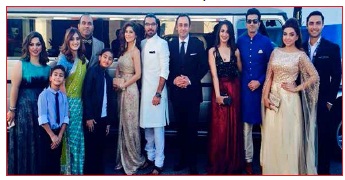 Hollywood, CA: Sameer Moosani of LAX Productions organized and produced the first ever Hollywood Red Carpet event of a Pakistani Feature Film Premiere, Karachi se Lahore, says a press release. It adds: This momentous event took place at the Harmony Gold Theatre on Sunset Boulevard in Hollywood, CA.
The star-studded VIP Reception was attended by those within the Pakistani and Indian communities, as well as some from the Hollywood and Bollywood industries.
The very talented and ever popular R. Madhavan and Bollywood "Bad Man," Gulshan Grover, were some of the great names who were present at our red carpet and supported this event, filled with very encouraging things to say about Pakistani Cinema.
The film's Director, Wajahat Rauf said: "Karachi se Lahore is a laugh-out-loud comedy and I hope that everyone has fun watching it."
The LAX Productions team toiled laboriously to ensure that this premiere would be successful. The cast of Karachi se Lahore, which includes Shehzad Sheikh and Ayesha Omer in the lead roles, and Javed Sheikh , Mantaha Tareen Maqsood , Yasir Hussain , Ahmed Ali, Eshita Syed , Aashir Wajahat and Rasheed Naz , in addition to the movie's producer and director, Wajahat Rauf, arrived to attend the premiere in a Mercedes Benz Limo.
We look to this as the revival of Pakistani cinema with many more major hits to come. This film, with its hysterical dialogues and antics, made it an absolute enjoyment from start to finish and was incredibly well received by all those in attendance, and the LAX Productions team are elated to announce that the star-studded, Red Carpet Hollywood Premiere of Karachi se Lahore was determined as such a success.
After the movie ended, the celebration of such a great occasion was arranged at the glamorous Sofitel hotel in Beverly Hills where all the sponsors, cast and the invited guests enjoyed the music and mingled.