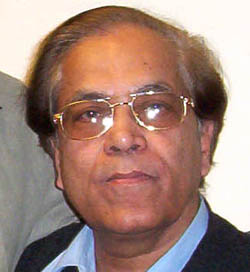 From the Editor: Akhtar Mahmud Faruqui
June 25 , 2009
A Not-too-Cryptic Message for APPNA Members
This editorial note was written a few years back. It is being reproduced as its not-too-cryptic message has largely gone unheeded by the better-than-the-best medical doctors of Pakistan origin, who, indisputably, have made their mark in mainstream America.
There are several indicators to mirror a country's progress - GNP, per capita consumption of electricity, number of patients per doctor, rate of industrial expansion, expenditure on health, and so on and so forth. Yet, while some countries pride on these well-known denominators of development, they cannot claim ascendancy in professional excellence or academic pursuits.
A vivid indicator of all-round progress and professionalism is the quality of publications - primary and secondary journals documenting Research and Development (R&D) advances, popular scientific magazines spotlighting the multifarious spin-offs of R&D successes, popular journals mirroring group strivings in various disciplines, and books delineating the march of dynamic organizations. They make up a treasure trove of information.
APPNA Qissa is one such publication. It faithfully documents the train of events that led to the formation of the Association of Pakistani Physicians of North America (APPNA) and spotlights the important developments that took place to transform the organization into a catalyst for wholesome change in Pakistan.
In quite a few ways, the Qissa of the strivings of Pakistani doctors in North America is the story of Pakistan nuclear scientists who gave Pakistan a singular distinction. Both represented the quintessence of academic excellence. Both were driven by a compelling urge to achieve the highest standards of professionalism. Both were motivated by an unflagging desire to serve Pakistan. Both demonstrated the best of both the worlds - Western education and Eastern values. Both exhibited the verve and zest acutely needed to accomplish daunting tasks. Both treaded a tortuous path strewn with untold obstacles. Both ultimately triumphed and produced tangible results. Both, unarguably, are destined to play a role in the future of Pakistan.
A pilgrimage to one of APPNA's annual meetings in Chicago a few years ago rekindled memories of the past. The meeting was strikingly similar to the annual International Summer College on Physics and Contemporary Needs sponsored by the Pakistan Atomic Energy Commission in the idyllic surroundings of Nathiagali.
Despite ethnic and political undercurrents, the post-election debate at the APPNA meeting was truly inspirational. Ingrained discipline. A free-flowing question-and-answer session. No deliberate falsehoods. Effusive arguments. "Sometimes APPNA's maturing led to growing pains that produced dissension among members. But throughout its growth and maturation, the organization has continued its commitment to be a democratic, grassroots organization." (Page 58, APPNA Qissa). Democracy could work in Pakistan if the PML-Q, PML-N, PPP et. al demonstrated the tolerant spirit of APPNA members.
APPNA Qissa is told in a language that is coherent and palatable. At times, the diction tends to be poetic, reminiscent of the Dickensian world. A sampling: "As the present recedes ever so slowly, gently and seamlessly into the past, it gets covered with the dust of time. With every succeeding moment it loses clarity and becomes more blurred and obscure. Eventually, it ends up as a vague memory in the hidden recesses of our mind.
"History is important because it helps us find our bearings in a vast ocean we call present. Without understanding and knowing the path we have traveled and the storm we have weathered, we cannot navigate the present nor, for that matter, chart coherent future…" The editors - Dr S. Amjad Hussain and Barbara Floyd - expatiate eloquently on the growth of the organization - from the formative phase to gradual maturation and deserve the best superlatives for their painstaking scholarship.
The raison d'etre of the organization is clearly spelled out: "… many Pakistani physicians who settled permanently in the US struggled with guilt over abandoning their homeland. While the United States needed their talent so too did Pakistan. Physicians were desperately needed as Pakistan tried to establish itself as a stable nation. In 1978, a group of Pakistani physicians who had lost their country for a better life in the United States decided it was time to repay their obligation to their homeland by organizing an association to provide aid - particularly in the form of medical assistance - to their native country. Thus was born the Association of Pakistani Physicians of North America." The organization is the brainchild of Dr Zaheer Ahmad, a gastroenterologist, who as early as 1976 envisioned APPNA.
Thanks to the steadfastness of its leaders and the unstinted support of members, APPNA has come to live up to its promise. It has successfully launched several well-meaning schemes in various parts of Pakistan to strengthen the health and education sectors. With the passage of time, the schemes have gained momentum and multiplied almost with a chain reaction effect. APPNA SEHAT, PAK-PAC, winter CME meetings in Pakistan, APPNA/KEPGE program and the Human Development Foundation are some of the initiatives that need special mention. "As APPNA celebrates its 25th anniversary, it continues its projects to empower the poor of Pakistan through increased literacy, enhanced education, grass-roots economic development, and improved health care. Through such progress it is hoped that the social unrest that fosters terrorism in much of the Muslim world can be obliterated in Pakistan," APPNA Qissa reports. A noble undertaking.
The book is studded with pictures and endnotes that serve to describe the formative years of the organization and its subsequent growth. APPNA's constitution, role in rescuing Foreign Medical Graduates, are duly described. Also included are the perspectives of past presidents. They supplement, rather than upstage, one another's efforts in spotlighting the gradual expansion of APPNA's activities.
In the post 9/11 period, APPNA, according to Dr. Muhammad Suleman, 23rd President (2002), is seized of a pressing responsibility: "We have played a key role in representing Pakistan to the American public, and to the American administration in Washington. In the coming years, this role will increase, especially given the heightened attention that Pakistan received after 9/11."
In fulfilling this role, APPNA shouldn't feel shy in owning and supporting the fledgling Pakistani-American media, especially community newspapers, that strenuously endeavor to highlight the strivings of Pakistanis, at home and abroad. (The writer is an ex-Assistant Editor of Dawn who also served as Principal Public Relations Officer, Pakistan Atomic Energy Commission)
afaruqui@pakistanlink.com, editor@pakistanlink.com