Shamim Ara: Lakhoon Mein Ek
By Dr Asif Javed
Williamsport, PA
Shamim Ara (SA) died in obscurity, a few weeks ago, in UK, thousands of miles away from Pakistan. She had been in coma for years and this news was not unexpected. Still, her death has severed yet another cord with our past.
A few years back, she was being interviewed. When asked to give a message for her countrymen, she broke down and asked them to remember the expatriates' love for Pakistan. Back in the 70's, Rajinder Singh Bedi was being interviewed on Amratsar TV. He started sobbing when asked about Lahore. The celebrated short story writer of Urdu, had spent his youth in Lahore before 1947. Such is nostalgia for one's youth.
My first memory of SA is from the mid-60's. Late Agha GA Gul, the owner of Evernew Studio, had produced Naila. The movie, the first in color in Pakistan, was based on Razia Butt's novel of the same name. The director was Sharif Nayyar. (Mohammad Ali once described him as the best in Pakistan.) The story revolved around the heroine who is loved by two brothers simultaneously. The role was played to perfection by SA. Now, unlike, Madhubala and Zeba, SA was no raving beauty. But she was a talented actress, well suited to play the type of role that required a shy, delicate, Eastern woman who sacrificed her life for a doomed love. Naila was a huge success.
I distinctly remember my elder sisters heatedly discussing the plot of Naila with their friends. Naila was a trend-setter too: It ushered in the era of movies based on novels. Decades later, SA was asked to pick her favorite song; she chose tarapnabheehamainata hey, sung by Mala and immortalized by music director Master Inayat Hussain who was born in Lahore's Bhatti Gate (Hakim Ahmad Shujah called it Lahore's Chelsea but that is a story for another time.) SA followed Naila's success by producing Saiqa, based on another popular RB novel.
Times have changed. But in those days, going to movies was a fairly popular and safe type of entertainment for middle class families. Many cinema halls would reserve, and often partition off, a part of the gallery for families with women and children. The culture of vulgarity, crudeness and violence had not permeated our films. Urdu movies typically had social, romantic themes. I remember seeing late Justice Aslam Riaz Hussain, along with his family, in a cinema hall in Lahore.
The other day, I glanced through a book by late YaseenGoreega who can safely be described as the encyclopedia of Pakistani Film industry. YG had created a list of top one hundred movies made in Pakistan between 1947 and 2000. SA was the heroine in ten of them: Sahelee, Farenge, Naila, Aagkadarya, Lakhoonmeinek, Hamraz, Dilmeradrarkantere, Saiqa, Meragharmereejanatand Salgira. If one considers the fact that her acting career lasted from late 50's through early 70's, it looks like a remarkably successful career.
In early 70's, SA made a smooth transition from acting to direction. It was a well-timed decision. She was fairly successful at that too although I had left Pakistan by then and did not witness that phase of her career. SA's retirement from movies brought an unexpected, premature and tragic end to the singing career of Mala. Mala's voice was very suitable for SA. Many of Naila's songs filmed on SA were sung by Mala. With SA's retirement from acting, Mala had hardly any work. Having gone through severe financial difficulties, a depressed and abandoned Mala died; she was only fifty.
Like most actresses of that era, SA too came from a blue-collar background. It is unclear if she had any formal education. Apparently, she had migrated to Pakistan from India and the family had settled in Karachi. One never heard of her mother or father. But there was that ever present maternal grand-mother who may have played a role in SA's marital disasters. And then there were professional difficulties: QateelShifai, who was producing a movie, Eklarkee mere gaoonke, notes in his biography that his movie's distributor would often make crude sexual remarks in SA's presence. When rebuffed, he would become visibly hostile towards her and would use derogatory remarks like calling her a prostitute. SA must have dealt with this type of adversity many times in her career. After all, this was and, to a degree, still is a man's world. Roger Ailes (the recently fired Fox TV chief) was not the first, or the last man, accused of sexual harassment. His kind have always existed.
SA reigned supreme when there were quite a few decent actresses around: Sabiha, Zeba, Neelo, Deeba, Shabnam, Nayyar Sultana and Rani among others. Despite her success in movies, her personal life remained a fiasco. There were rumors of impending marriage to Mohammad Ali until he got married to her competitor, Zeba. For years, there was a statement attributed to SA that she intended to marry the army officer who would capture Kashmir. Later, she denied having ever said that. And then came a sudden marriage to Sardar Rind, a landlord from the South, who died in a car accident. Her marriage with director Farid Ahmad, the talented son of WZ Ahmad, did not survive long either. After yet another failed marriage with Majeed Karim, she finally settled down with Dabir Hasan, a writer, who predeceased her by a few years. She has a son, who lives in London.
Another memory of SA etched in my mind is her very emotional speech from Radio Pakistan in late December 1971. Many artists had been asked to do this to raisethe morale of the armed forces. Unaware that East Pakistan was sinking fast and that the Romeo General Yahya Khan and his coterie were enjoying their alcohol, SA presented herself at the Lahore Radio Station and like a dutiful, patriotic citizen, did what was asked of her.
The last years were difficult. Everything had been drifting downhill. Her health had broken down. A stroke had left her visibly weak. In a TV program with Bushra Ansari, she appeared depressed and emotionally labile. Ironically, a successful actress, producer and director of her time, was also going through financial problems. Having been dispossessed of her house in Gulberg, facing litigation and having no other place of her own, she was forced to stay with actress Bahar, an old friend. The catastrophic brain hemorrhage came a few years ago. She was flown to London, and spent the rest of her life probably in a nursing home.
Two days after her death, I found myself travelling on the London underground train. The third station, going from London Heathrow Airport towards Central London, is Hounslow. That is where the heroine of Lakhonmeinek and Nailahas found her last abode. As my mind wandered back and forth, it suddenly dawned on me that my favorite heroine has finally come to rest a stone's throw from Heathrow from where PIA, Pakistan's flag carrier, flies back to the homeland that SA sorely missed.
(The writer is a physician in Williamsport, PA and may be reached at asifjaved@comcast.net )

Pakistani Film "Manto" at UC Berkeley Makes Quite an Impact
By Ras H. Siddiqui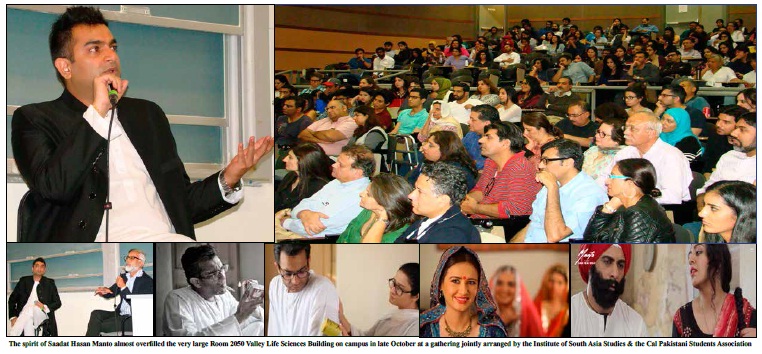 Few people would take this liberty but one has to here as two very different titans of Urdu language writing have to be mentioned together but not for comparison. The main reason for that is that a very large gathering on Urdu and Pakistan had taken place at UC Berkeley a few years ago (with this writer present) focusing on poet Faiz Ahmad Faiz and it had filled the hall and was almost standing room only. Faiz Sahib as he is well known and is revered across the partition border in both India and Pakistan, and when his daughter came to this world famous campus in California a few years ago, the South-Asian Diaspora showed up in strength to show their support.
This phenomenon was repeated once again last month, but this time the event was the showing of a recently released Pakistani movie titled "Manto" on the life of Saadat Hasan Manto (1912-1955), a Ludhiana-born Urdu short storywriter. Manto moved to Pakistan after the division of British India and chronicled the obscenity that accompanied partition in vivid (fictional) detail. Krishan Chander (1914-1977) was another similar short storywriter in India; a contemporary of Manto, who lived a longer life and wrote both in Hindi and Urdu.
The spirit of Saadat Hasan Manto almost overfilled the very large Room 2050 Valley Life Sciences Building on campus in late October at a gathering jointly arranged by the Institute of South Asia Studies & the Cal Pakistani Students Association. The director and main actor of the film Sarmad Sultan Khoosat was present to accompany this "non-commercial "showing of his Urdu movie (with English subtitles). Khoosat is a familiar name in Pakistan because more than one generation of the family has contributed to the arts in the country. Sarmad's claim to fame is also the TV serial Humsafar which took both India and Pakistan by storm just a few years ago and in the process launched the careers of more than one Pakistani star.
Manto the movie opens with "shocking" intensity. A lady in red, a beauty on a charpoy (bed) prepare the audience for Manto (Khoosat) and his narrative from a mental hospital in Lahore where he is fighting battles with his many demons, including the very personal one, alcohol. He is also shown being hounded by his nemesis Mr Chaudhry Mohammad Hussain who wants him charged with obscenity to end his writing career. What is made obvious is that Manto's writings are about grim tales of what really happened during and just after partition, and since the new country of Pakistan had been created, his stark reminders of the horrors unleashed got in the way of the "necessary" optimism being spun.
In this film our one savior from the seriousness is Melody Queen Noor Jehan (played by Saba Qamar) but that naughty relief is short lived. We are back at the hospital where the complaint is that patients are treated like criminals. And through his affinity for the bottle, Manto expresses his closeness to both the divine and the devil, as we visit his truly controversial "Khol Do" (Open it) where rape has found a new expression in helplessness. Once again who wants to remember? The movie goes on as Manto has to face the realities of working for a living (selling ice) as we visit another one of his stories where a woman gets her Tonga (Horse Buggy) Driving License revoked so she would not annoy the conservative powers that be, and is then (ironically) forced towards working in the oldest profession of "entertainment" instead. And it is these ladies of the evening that become Manto's most supportive fan base, possibly because they knew the realities which he had been writing about in his stories up close! He is shown welcomed in both the Kothas (Dens) of Lahore's infamous Diamond Market but also in the courts where his nemesis leads him.
No movie on Manto can escape Toba Tek Singh, his fictional insane asylum where he so carefully partitions insanity in what has become his best known work. Imagine the difficulty; how do you partition the confused patients of a mental institution and figure out whether they belong in India or Pakistan? But things at this point are getting too grim. And once again Noor Jehan comes to the viewer's rescue at a birthday party and the return of some smiles. But even here Manto is possibly distracted by a "Kaali Shalwar" (Black Pantaloons) of a dancer.
Nobody is spared the pen of Saadat Hasan Manto as his Thanda Gosht (Cold Meat) and impotence make their dramatic appearance, where necrophilia haunts the private lives of a Sikh couple. An American Consulate official also visits Manto offering a handsome sum for writing "positive" stuff which is rejected. (Surprisingly Manto's famous "Letters to Uncle Sam" are missing in this movie). What we do have instead is a writer hounded in the courts, haunted by his alcoholism and helpless in front of his own writing brilliance. These are the three powerful aspects that any viewer can take away after watching this movie. And the irony, as a Judge fines Manto 25 Rupees for "Obscenity" yet asks for his autograph on a book since he is also a fan.
To offer a digression, the viewing of Manto should be mandatory for the current leadership of South Asian countries. It somehow creates space for all of us tied in some way to India or Pakistan to help foster a healthier future relationship. The people who lived through partition needed to forget. Their future generations have the luxury of remembering. As Professor Harsha Ram explained in his introduction to this showing in Berkeley, Manto was a writer of both nations, India and Pakistan and yet of neither. He added that Manto wrote without feeding the nationalist mythologies of either country. An unsentimental realist deeply shaken by the carnage of 1947, Manto became the enemy of both the Marxists and the Mullahs which in itself is quite an accomplishment, said Ram.
Sarmad Sultan Khoosat has a winner on his hands with "Manto" which is a cut above many, if not most, South Asian movies. In a chat with Ram and a Q&A session after the showing, Khoosat said that he had been asked to cut the running time of the film by another 20 minutes or so for international commercial release. One suggestion would be to cut some scenes of his own fine acting (unfortunately) while portraying the sad demise of the main character. "Manto" is already a very tragic story. There is no need to further highlight that aspect of his life. This film needs to stay focused on his writing genius, his treasure chest of ironies.
Even today, some of the demons of 1947 still haunt India and Pakistan from within. It is time that the people there revisit the horrors of partition just so they do not repeat them. It is time to move on and to create a better future for all people in both India and Pakistan just as Saadat Hasan Manto would have wanted it. It appears that he deeply loved the land and people of both!
(This movie is for mature audiences so please don't take your children to see it. It rates a full four stars on a scale of four)
An Interview with the Director of the Movie "Jinn"
By Ras Siddiqui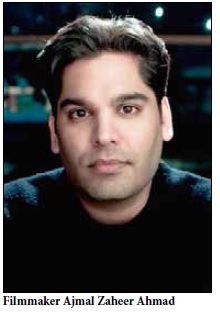 "In the Beginning, three were created. Man made of clay. Angels made of light. And a Third made of fire." These form the elemental core of Jinn, a movie written and directed by Ajmal Zaheer Ahmad (AZA) an American of Pakistani origin with a passion for imagery. Jinn is slated to hit the screens on the first Friday of April, 2014 when it will attempt to capture viewer imagination and the attention of a worldwide audience. Starring Dominic Rains, Serinda Swan, Ray Park, William Atherton and Faran Tahir, the movie highlights man's meeting with that elusive third race "born of smokeless fire", a rare encounter. "Similar to humans in many ways, the Jinn lived invisibly among us and only under dire or unusual circumstances were our paths ever meant to cross."
In Jinn, Ajmal Zaheer Ahmad (AZA) has created a haunting story and captured it in his film. Ras Siddiqui (RS) interviewed him for this publication to dig deeper into the movie and the filmmaker: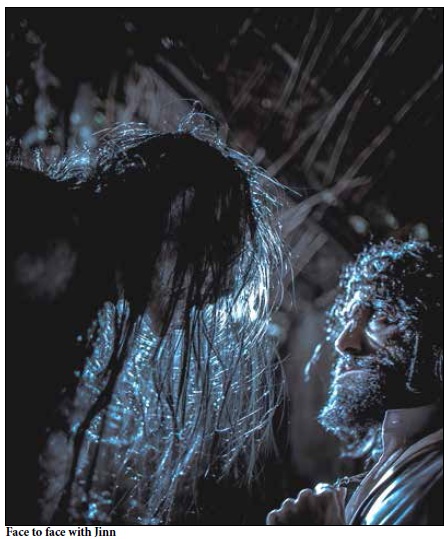 RS: First before we approach the subject of the movie itself, could you share a little information about yourself and how you became a filmmaker?
AZA: First, thank you for taking the time to do this interview, it's most appreciated. As far as how I became a filmmaker...the simple answer is that it was something I knew I wanted to do since I was very young. I vividly remember watching Superman as a three-year-old sitting cross-legged on the floor in my parents' bedroom. That music still makes my heart beat. One of the reasons I went into this career was to give the same feeling to others. As far as the nuts and bolts of how I got to this point? It's a long story but the simple answer is...I made a firm decision to become a movie director, and then never looked back.
RS: The Jinn film project seems to have taken a number of years to complete. What were some of the reasons for the delay and are you now happy with the final product?
AZA: We've been asked this question a few times and it's one that I love to answer because it means that people have been waiting for the movie. The other good thing about the question is that people assume we are a large Hollywood-type company. We take it as a compliment. The truth is there actually was no delay as the release date was never set for the movie. Since this movie is solely owned by us, we didn't have to set a date ahead of time and then scramble to hit it. We simply worked on it till we felt that it was in its best form...and then decided to release it. It's a luxury that few film makers have and we're very proud of what we have accomplished. We hope that people enjoy it.
RS: One of the most interesting and unusual parts of the film is the use of exotic cars. How did this Detroit-Michigan connection become a part of the story-line and what can you tell us about these cars?
AZA: The answer as to why we made the "Firebreather" super car for Jinn is very simple...because we could, and because it's crazy! It's was such an off the wall concept; hard to really put it into words. Basically, the hero needed an awesome American muscle car...so I designed the car, one which I would love to own myself...and then we built it. It represents the first time you could walk out of the theater and potentially buy the actual car you saw in the film. No movie company has ever done that before...even the big guys.
RS: Why a film about the Supernatural? Did you grow up in a South-Asian family like many of us who were scared by stories of jinns and bhoots (ghosts) which you are now sharing on screen with the world?
AZA: This one is simple. There has never been a movie depicting the authentic Jinn concept. In an industry where many movies are rehashes, remakes and re-boots...we thought something fresh would be interesting. I grew up with this concept and since I was nine years old, I wanted to make a movie on them. I remember asking myself "How come no one has made a movie on them?"...well, now someone has.
RS: At this point in time and after seeing both of the previews-trailers released thus far of Jinn we still know very little about its story. What it does come across as is an action-adventure-thriller with a strong element of the supernatural. It that an accurate description or should we call it a horror film?
AZA: You're pretty dead on with your assessment. The Jinn lends itself to being advertised as a horror concept on the surface. However, there is much more to the Jinn than just evil monsters running around. We have attempted to capture the true mythology of the Jinn and also make it exciting for everyone. We are extremely curious to see how people label it after they've seen it.
RS: Did a tech background come into play when you created the Jinn in the film as far as the special effects are concerned?
AZA: I do not have any tech background (apart from movies) but I have learned and stayed on top of the technology necessary. From cameras to computers to cars...they're all my passion and I feel knowing them well makes me a better director. It of course helps incredibly when putting together SFX shots. My design and drawing skill was the other thing that has helped immensely. I tried to design every composition, costume, prop, and environment beforehand so we knew the best way to attack each shot.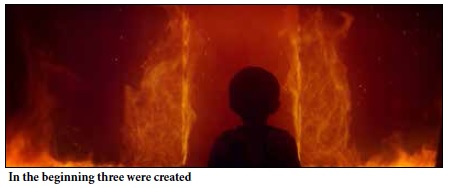 RS: Did you plan the release date of 04-04-14 or were greater-unknown powers at play here?
AZA: 4-4-14 was a spot recommended to us by our distributors, Freestyle Releasing. Since this is not a 100 million dollar movie by any means, we chose to counter program Captain America. The basic principle behind counter programming is to give an option that is different from the huge movie that's coming out on that day. So for those that might want to see a supernatural thriller rather than an action movie, they have a choice. Since our release is much smaller than Captain America, we run less risk and have a high chance of finding an audience...if we reach out to them properly.
RS: Are you working on your next film project already or in other words where does Ajmal Zaheer Ahmad go from here?
AZA: Exxodus Pictures and I have numerous projects ready to go. Some are extremely ambitious films that are birthed from a similar core as Jinn...to reveal and create new concepts that haven't been done yet. We have many of them in various stages of development but of course as a small company, all our time right now is devoted to finishing and promoting Jinn. With the support and well wishes of the people reading this, we hope that the release will be a success. If so, I'm pretty sure you'll be seeing a Jinn 2 in production quite soon.
RS: To conclude, the Jinn (or Djinn) concept coming to US theatres on April 4th may not provide serious competition to Captain America but it should still offer viewers some exciting comparison shopping.
(Pictures and some written material courtesy of Exxodus Pictures)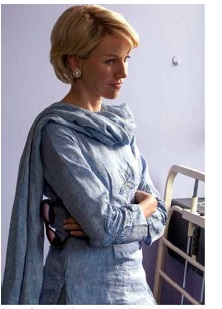 Director Oliver Hirschbiegel's movie "Diana" is an ambitious film, one which might face initial viewer reservations because many in our generation still have vivid memories of the late Lady Diana Spencer. As Princess of Wales or just Lady Di, she was one member of the British Royalty who touched the hearts and minds of millions around the globe as she became Britain's most glamorous face to the world. Her controversial life was followed closely by us even before the Internet brought many more famous private lives into the public domain (whether we like it or not). That this movie is about a tragic end is a secret between the reader here and the rest of the world (no spoiler alerts are needed on that count). Diana and her very public companion Dodi Fayed and driver Henri Paul were killed as a result of a car accident (conspiracy theorists may disagree) in a Paris tunnel in August 1997. The world mourned her; she had become a Princess to the planet partly because of her work on behalf of numerous charities and noble causes, and her very public private life. The media just couldn't get enough of her. A member of the British Royalty "Going Asian" (a term used for South Asians here) her dating a Pakistani and later a Middle Easterner made big news. This fact may not always have been appreciated at home, but it was looked at and followed with a great deal of interest around the world. With that thought in mind, we turn to the film, which not surprisingly focuses on her rollercoaster romance with life itself.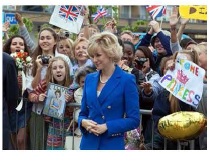 The movie starts off in Paris on the tragic day of August 31, 1997 as she prepares for her final journey. Diana's single look back as she and her entourage enter an elevator head out of the hotel is significant. First, it really introduces us to Naomi Watts playing her character (one of the initial difficulties for any fan of Lady Di is getting used to someone else acting as her). The issue that Diana fought for; the control of landmines is also brought into the movie very early, but it is her and Dodi Fayed making the media headlines which is of much more interest to the world instead. We move quickly to visit an earlier time where the Princess is shown at a charity fundraiser, hounded by reporters, getting intense paparazzi attention, and appearing to be very tired of it all. She comes back to the palace where she sends all of her personal security and domestic help away and sleeps alone. She talks in front of the mirror, is shown reflecting on her marriage to Prince Charles. "There were three of us in this marriage. So it was a bit crowded," she says, a window into her inner troubles and loneliness. She confides in Oonagh (Geraldine James) while undergoing acupuncture and shares a fearful dream she has of falling. Oonagh tells her that she is always giving in her life and the hard part for her is receiving love. Diana adds that her fear is having no one there to catch her during her fall. This also becomes significant to the storyline (based on the book "Diana Her Last Love" by Kate Snell) in the latter part of the movie. The public Diana and the private one are both played well by Naomi Watts who makes the switch appear seamless. She is asked by her private secretary Patrick (Charles Edwards) to join in naming a submarine but she expresses a preference for events involving helping people instead. She is called to a Royal Kensington Hospital emergency room where a loved one is in need of attention. And it is here that Diana first meets Pakistani heart surgeon Hasnat Khan (Naveen Andrews) whom everyone seems to think of very highly. Hasnat barely acknowledges Diana during their first encounter but that changes somewhat quickly as a very private man and a very public woman fall in love. To elaborate here, a Pakistani doctor who is fond of jazz music, amburgers, smoking cigarettes, quoting the poet Rumi, and consuming old grape juice enters into a relationship with the world's most famous woman who is on the outs with her husband but loves her children (Prince William and Prince Harry) very much. This movie could easily have been titled "Diana & Hasnat" because they dominate it almost completely and it is their story. All others appear rather briefly. Prince Charles does not appear at all and the royal kids are but a glimpse here. The other characters are not really developed enough to be mentioned, except for Diana's confidantes Oonagh and Sonia (Juliet Stevenson) and a couple of members of Hasnat's family, namely his mother Naheed Khan (Usha Khan) and family elder Samundar (Art Malik) who actually have some meaningful dialogue.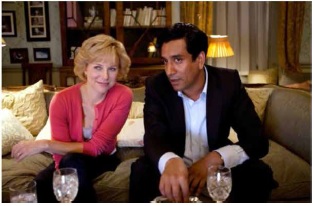 The Lahore segment of the movie is quite colorful. Lahoris fell in love with Diana when she visited Cricket Great Imran Khan and his Shaukat Khanum Memorial Cancer Hospital in the city in 1996. Diana also secretly met Hasnat's family during that Lahore visit. The meeting between Hasnat Khan's mother Naheed and Diana will certainly attract a great deal of South-Asian (not only Pakistani) Diaspora attention. A unique and polite culture clash takes place between the two. "Yes, the English say sorry so beautifully," says Naheed, putting the post-Partition British- Desi relationship on ice. "Diana" the movie is about a difficult love story. Full credit goes to Naomi Watts for filling in some impossible shoes and making us believe that she actually is Lady Diana. And kudos for Naveen Andrews for making Pakistani men look good for a change in Western movies while playing the role of a light hearted romantic. Together they have made this cross-cultural romance worth watching. Fact, fiction or a little of both, only Dr Hasnat Khan who is alive today really knows what happened between him and Lady Diana Spencer. For us film buffs (or critics from South Asia) the movie has something to offer mainly because of the historical perspective, plus the acting and careful directing. And the script, although somewhat weak in parts, is in the end saved by a very pretty woman looking back at us and the poetry of Rumi. ("Diana" the movie is slated for release in the United States on November 1, 2013. Pictures courtesy of © 2013 Entertainment One Films US).
Dilip Kumar: The Star of a Bygone Era
By Dr Asif Javed
Williamsport, PA
Way back in the 40's, a producer approached DK--then a struggling actor--and offered the lead role in one of his stunt movies. DK was tempted: the money was very good and he was hard pressed financially so much so that he had asked his studio for a loan. There was one problem, however: stunt movies were considered C-grade stuff; Having thought it over, DK declined the role. Many years later, when he was making Koh-i-Noor, he found out about a scene that required him to play sitar in a song sequence. Naushad suggested that Ustad Jafar Khan would play sitar in the scene while the camera would focus on his fingers and the audience will not know. DK did not like that and instead spent months training himself on Sitar. When the day came for shooting, he was ready to play sitar. "Jadoogar Qatil" is the song that can be seen on you tube by those who wish to confirm this. So there you have it; DK knew early on how to be selective and had an unmatched dedication to his work.
Yousaf Khan who was born in a conservative Pathan family in Peshawar, was forced to move to Bombay because his older brother fell from a horse and sustained a serious back injury. It so happened that the nearest back specialist available was in Bombay, so the whole family moved on to Bombay. As luck would have it, Ashok Kumar, the established star of Bombay Talkies, was about to leave the studio and Devka Rani, the owner was desperately looking for his replacement. Unbeknownst to his conservative father, Yousaf interviewed. It is not known exactly what impressed Devka Rani about the shy lad but he was hired. She chose his filmi name Dilip Kumar in preference to Jahangir and Vasudev. DK's journey had begun and what a ride it has been! The horse in Peshawar as well as Devika Rani deserve our gratitude for their role in making DK out of Yousaf Khan.
DK did not become a sensation overnight; he passed through a painful phase of successive flops. Film India, the leading film journal of the time almost gave up on him, calling him "an anemic addition to the actors whose acting effort was nil" in Jawar Bhata, his first movie. DK was not a born actor, as he has admitted on occasions. But he had something even better: a burning desire to excel. Over the years, he was to hone his craft by painstakingly studying the leading Hollywood stars—Paul Muni, Spencer Tracy, Henry Fonda, John Gielgud, James Stewart and Marlon Brando. Brando was a proponent of the method school of acting and DK seems to have acquired it too. DK became a colossus with his relentless pursuit for excellence. His attention to detail is legendary: for Ganga Jumna, his own production that was based upon a dacoit storey from UP, the dialogues were written in the local Purabi dialect at Naushad's suggestion who came from the area. It took almost a super human effort to get the cast that included South Indian Vajantimala, deliver the lines in the local accent. Those who have seen Ganga Jumna, today best remember it for the dialogues.
DK was soon to become synonymous with the tragic roles. Mehboob Khan's Andaz started this trend that continued well in to the early 60's. In that period, the tragedy king gave his admirer's Deedar, Sangdil, Devdaas and Ganga Jamna among others. As time wore on, he started to move away from the tragic roles at the advice of his psychiatrist and began to accept lighter roles, the examples being Azad, Koh-i-Noor and Leader. The staff at Bombay Talkies were encouraged to read. The studio had a well stalked library. Over the years, DK became fond of English classics, particularly the writings of Bronte sisters; he has done four movies based upon their novels—Sangdil, Arzoo, Helchel and dil diya dard liya; it is sad that none of these did well at the box office but that may be a reflection of the taste of audience than of the movies.
Over his long and distinguished career, DK has worked with most of the leading ladies of his time. Guess who impressed him the most? It wasn't Nargis or Madhubala; it wasn't the tragedy queen Meena Kumari either; it was Nalini Jayawant. He did only two movies with her: Shikast and Anokha Pyar; years later, he would remember her as, "punctuality personified who would bring extra warmth to her performance and would be extraordinary even in her first rehearsal." When asked as to who does he consider his mentor, DK did not name Mehboob who had catapulted him to stardom with Aan and Andaz or Bimal Roy who directed him in Devdaas---that heart wrenching saga of the doomed love that many consider to be his finest role; Daleep instead named Nitin Bose who had directed him in Milan, Deedar and GangaJumna.
A question is often asked as to which of his roles was the best one. Many will point to Devdas and Ganga Jumna being ones that defined him. DK himself has never answered this question. The consummate artist in him is perhaps too proud to choose one among many.
DK had the reputation of being choosy about his roles. He took his time before making a commitment. Whereas, he generally made the right decision, there were roles that he turned down that with the benefit of hindsight, he should have accepted. His biographer Sanjit Narwekar reports that back in the early 60's, DK was approached by David Lean and offered the role of Sharif Ali in his epic Lawrence of Arabia; DK asked for the lead for which the Irish actor Peter-o-Toole was already signed up. Besides, the role required a Caucasian. David Lean politely refused but may have wondered about the audacity of this Indian actor. The same role was then offered to Omar Sharif who accepted it. We are told that DK turned down Baju Bawra (given to Bharat Bhushan), Mother India(given to Sunil Dutt), Piyasa—a cult classic that ranks the highest, among all Indian movies, on the internet (done by Guru Dutt himself, a role tailor made for DK).
His admirers include Amitabh Bachan who says that had DK been in Hollywood, he would surely have collected multiple Oscars. Shah Rukh Khan calls DK his ideal. But perhaps the best tribute to DK has come from Manoj Kumar. Manoj who had often been accused of being an imitator of DK said, "Tell me which actor in the last forty years has the guts to keep his hand on his heart and say that he has not imitated or tried to imitate DK."
Despite being reserved and very private person, DK has not been spared the gossip and scandals that is almost a job hazard in the movie industry. In the 50's he had a well publicized love affair with Madhubala; her inability to choose between her stubborn father and DK ended it on a sour note. Before that, Kamni Kaushal, one of his early heroines, was ready to leave her husband for him. Well educated Kamini Kaushal, a graduate of Kinnaird College, Lahore and the daughter of the Dean of Punjab University. She was only dissuaded by Ismat Chughtai whose husband Shahid Latif was making Arzoo with Dilip and Kamini Kaushal at the time. Dilip remained single until 43 and then suddenly married Saira Bano. People were aghast: SB was considered a B-class actress, almost 20 years younger and had an ongoing affair with already married Rajinder Kumar. Besides, she had done some roles considered quite offensive for those times. She was the daughter of Naseem Bano, herself an actress from the early 40's. Naseem's mother had been a well known courtesan. Manto has written a sketch of Naseem Bano in his mater piece Gajay Farishtay. DK's marriage with Saira Bano has survived although there was that bizarre Asma Begum incident in the early 80's that did strain it. Asma was a divorced socialite from Hyderabad whom DK had married in secret. His repeated denials of second marriage were swept away when Nikahnama was published in news papers. The episode did tarnish DK's image somewhat. Asma was eventually divorced. Dilip moved on and today, the episode is almost forgotten.
DK naturally had his detractors too. Industry insiders have known for years that DK has a habit of changing the script to enhance his role at the cost of others. Sanjeev Kumar who worked with DK in Sungarsh was very vocal about this. Mahbook Khan refused to change Mother India's script for DK's role; DK was not thrilled but Mahboob refused to budge and gave the role to Sunil Dutt. AR Kardar, one of the senior and highly respected directors, always blamed DK for changing the script of Dil diya dard liya so much that the movie bombed. Kardar pointed finger at DK for the disaster that effectively ruined him. "DK was my Waterloo. He has never given happiness to anyone. He has always made life difficult for filmmakers", Kardar said once.
DK had a fair share of tribulations in his career: his one attempt at production, Ganga Jumna was stuck with censor board for almost a year. There were whispers that this was done to allow Raj Kapoor's Jis desh mein Ganga bahti hey a free run in the market. DK had to go all the way to PM Nehru. Nehru saw the movie, liked it and cleared it. The episode so embittered DK that he vowed never to produce a movie again. He has been accused of being a Pak spy too and had to endure the indignity of a police raid on his house that came to nothing. His visit to Pakistan in the 80's and acceptance of Nishan-i-Imtiaz created a furor in India. Undeterred through all that, DK has stood tall with poise and class of his own.
The recent death of Dev Anand leaves DK the sole survivor of the famous triumvirate—Raj Kapoor having died many years ago—that ruled the box office from mid-forties through late- sixties. Nowadays, he lives quietly at Pali Hill, Bombay, leading a retired life. Years ago, there was a brief foray in politics as member of Rajia Sabah. The crowds of admirers are long gone as are the producers who were only too willing to pay him exorbitant amounts for roles he would usually decline. Like a lion in winter, he is quiet and slowly fading away. We are told he will celebrate his 90th birthday soon. From a fan of his who lives far away in North America, I say, happy birthday to the ever young hero of our rapidly diminishing generation.
Duke of Wellington once said that he regretted not having thanked those who served him so well. On behalf of thousands of DK's admirers who are scattered across seven seas, this writer therefore says, thank you Dilip Sahib for the happiness, excitement and the tears that you brought to our eyes. Despite your flaws, you have been and will always be remembered as truly one of a kind. You are the king, as late Khalid Hasan once described you.
(The writer is a physician based in Williamsport, PA and can be reached at asifjaved@comcast.net )
Mehdi Hassan Has Left a Rich Legacy of Poetic Anguish
By Ras H. Siddiqui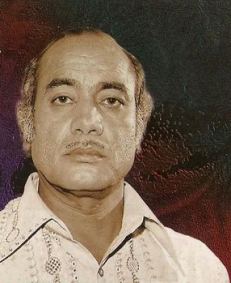 Mehdi Hassan, one of the finest ghazal singers that South Asia has produced, passed away in Karachi, Pakistan on June 13, 2012 at the age of 84. It has been reported that he had suffered a stroke over a decade ago and had been struggling with his health ever since, dealing with a number of related problems and trying to pay for his medical bills. He had not been singing for a long time, his last reported effort being a duet with Lata Mangeshkar in poet Farhat Shahzad's "Tera Milna Bahot Accha Lage Hai" in the Sarhadain" (Borders) album. Both Hassan Sahib and Lata Ji recorded their segments of the song separately which were later merged or blended together to produce this historic song.
Mehdi Hassan Khan was born in 1927 in Luna, Rajasthan, located in Jhunjhunu District bordering Haryana. Rajasthan is well known for handicrafts, forts, palaces and havelis (large dwellings of the rich) and somehow as a place of birth of geniuses and great ghazal singers no less. It is interesting to note that we have now lost not one but two of the giants of ghazal singing within a year (the other being Jagjit Singh). And they were both born in Rajasthan where the native language is not even Urdu or Hindi. Maybe some kind of scientific study is needed of the soil of the area to determine why it has produced such fine singers although this writer credits that feat to the presence of Ajmer Sharif and its Sufi shrine located near the center of the state.
There were two singing visits by Mehdi Hassan to the San Francisco Bay area during the closing period of the last century which this scribe attended. The first was when he was still quite mobile and singing not only in Urdu and Punjabi but also in Dari (Persian spoken in Afghanistan). At this venue it came as a surprise to me that he had a large following amongst the Afghan Diaspora. Before that show I was only used to sharing his songs with Indian and Pakistani fans (and with a few Nepalese and Bangladeshis). I was told at the show that he used to sing for former Afghan King Zahir Shah at the monarch's invitation. The second time Mehdi Hassan performed here, he was physically helped on to the stage so we knew that something was seriously wrong. If memory serves me right he started off with a beautiful rendition of Farhat Shahzad's "Tanha Tanha Mat Socha Kar" (Don't think too much while alone). He came to the stage very late that night and left after singing just a handful of songs to our disappointment.
For the masters and connoisseurs of the Urdu language, its written poetry is all inspiring. But for many of us, who do not have a good grasp of the nuances of its script, we have had to depend on the singers of India and Pakistan to keep us connected to our most cherished emotions. The ghazal is the ultimate expression of this emotion. Amongst others, the late Mehdi Hassan and Jagjit Singh have done wonders for us in understanding this art form. On the musical side, we who do not understand the difference between a Raag and a Thumri also have to thank them for making it all appear simple.
Young Mehdi was once working in a bicycle repair shop in Pakistan when his family migrated there after the 1947 partition of British India. Belonging to a family of musicians from the Kalawant clan of which he was the 16 th generation, he refused to give up singing and took Radio Pakistan by storm during the 1950's. Poet Faiz Ahmad Faiz's "Gulon Mein Rang Bharay" (The Fill of Colors in Flowers) did additional wonders for Mehdi Hassan's singing career and for Faiz Sahib's mass appeal when it was included in the film Farangi in 1964. He became the most significant male playback singer for the once thriving Pakistani movie industry along with Ahmad Rushdie (who died very young) and Masood Rana during the 1960's and early 70's. He returned to live classical singing after that as the industry started declining. But while it lasted, Mehdi Hassan's voice became associated with the faces of lead actors Mohammad Ali, Waheed Murad and Nadeem. The 1969 film Zarqa which celebrated its Diamond Jubilee in Karachi was a crowning achievement for him. The peak years for his many movie songs were during the 1970's. Hassan Sahib's duet with Madam Noor Jehan for the 1970 movie Insaan Aur Aadmi "Tu jahan kahin bhi Jaye, Mera piyar yaad rakhna" certainly enhanced one of the finest Mohammad Ali and Zeba films pairs. His last big movie hit was "Aaj tu ghair sahi" for Nadeem in the film Dehleez in 1983, one in which (now Bangladeshi actress) Shabnam was Nadeem's love interest during the song.
The fact that Mehdi Hassan had a huge fan following in India cannot be understated. From Lata Ji, Dilip Kumar and a host of others connected to Bollywood, many have acknowledged his passing. Some leading personalities from India have already visited his grave in Karachi and many condolences have accompanied the news of his death from across the border. A statement from the Indian Prime Minister's office was also reported on this sad occasion. Many ordinary Indian fans also posted their feelings on various websites. Thus the "King of Ghazals" was mourned in death by fans irrespective of borders.
Faiz Sahib has already been mentioned as has the work of Farhat Shahzad, both given a bigger musical following with Mehdi Hassan's singing of their work. From Ghalib, Mir Taqi Mir ("Patta patta boota boota…"), other more contemporary poets were featured including Parveen Shakir whose "Kubaku Phail Gayi.." will be long remembered. But there was one poet in particular who stood out in Mehdi Sahib's work and that was Ahmed Faraz. From "Shola tha jal bujha hoon" (which today could apply to Mehdi Hassan himself, or its author Ahmed Faraz or possibly to its original subject Zulfikar Ali Bhutto) to "Ab kay hum bichray to shaayid, kabhi khaboon mein milain," to the unparalleled masterpiece "Ranjish hi Sahi..," also composed by Mehdi Sahib himself, which was in this scribe's opinion his crowning achievement.
Others will have their own favorite songs by the King of Ghazals, but the master stood out with his rendition of this particular number. Nobody has expressed the pain in the lines of love written by Faraz and captured in the word "Ranjish" (Anguish) better than Mehdi Hassan. His own struggle has ended, may his soul now rest in peace with God.
"Bol" Is a Very Bold Movie
By Ras H. Siddiqui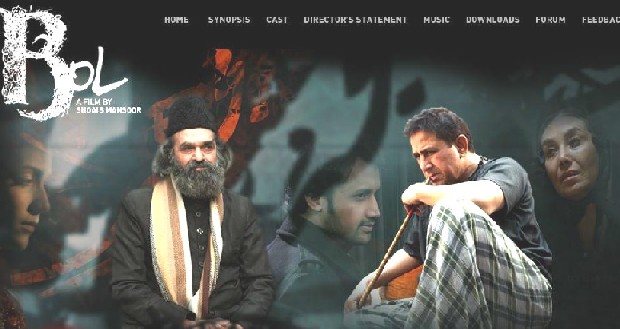 What used to be true about film entertainment originating from South Asia, especially Pakistan, was that it sure took its sweet time while reaching California. We were usually the last to catch up (unless it was available online) but still remained no less appreciative or critical than the people say in New York, London and Dubai. This time however, Shoaib Mansoor's movie "Bol" was released throughout the US and Canada around the same time. But not too many reviews have surfaced, here, possibly because of the seriousness of the film and its grim subject matter. Is it because members of the Diaspora in North America try to ignore our grim social realities and just prefer more entertaining films? The answer to that may be a qualified "yes" but reminders like "Slumdog Millionaire" from last year just cannot be ignored. And in the same vein neither can one ignore "Bol" (Speak or more accurately Speak Out) because rarely does such a bold film originate from Pakistan.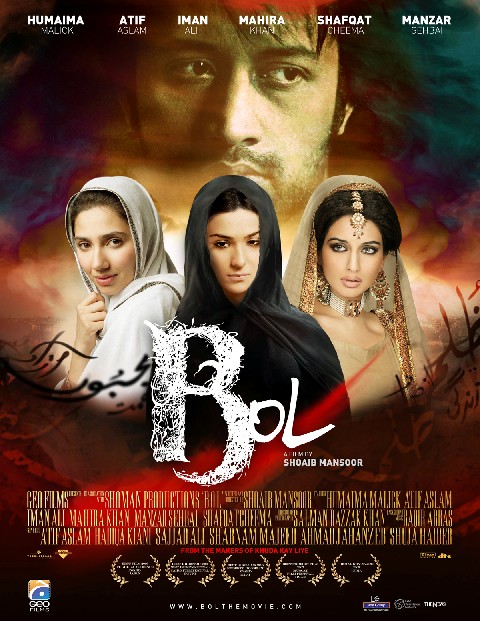 My wife and I were the only two people seated in the theatre in the Sacramento, California suburb of Elk Grove to see this film so we can even boast of a "private showing". Salman Khan's latest film "Bodyguard" was playing next door and the number of people coming out of there was far larger than the two of us. But if one can make such a statement, it is that "Bol" is a more realistic movie and thus has had fewer people viewing it! And this is not another attempt to incite India-Pakistan tensions. "Bodyguard" is surely far more entertaining and Bollywood trumps Lollywood in quality films anytime. But watching "Bol" was an "experience" and not necessarily an entertaining one, even though singer Atif Aslam's character Mustafa did try to add that aspect to the formula through his music and somewhat romantic pursuit of Ayesha (Mahira Khan).
Before going any further there are two advisories. First, please do not take your kids to see "Bol' because the movie is just too intense for them. And second, if you are from the conservative mindset, "Bol" will generate many difficult questions. After having seen it now, in my opinion this movie is not anti-religion. But it sure makes a very disturbing statement against societal and religious hypocrisy. In other words this movie has taken the cloak (and clothes) off many segments of current Pakistani society and parts of it will make the viewer quite uncomfortable.
The movie starts with the sad face of Zainub (Humaima Malick) who has been sentenced to death for murder. Her mercy appeal is rejected callously by the President but her unusual request to speak to the media just before her execution is approved. This is Zainub's story and that of her father Hakeem Shafa'atulah Khan (Manzar Sehbai) and his diminishing financial fortunes and increasing family size entirely made up of girls. That till a "son" is born of questionable gender. Unfortunately, Saifullah Khan or Saifi's (played by Sagar and by Amr Kashmiri) birth is hailed only by the local transvestite (Heejra) community. It enrages his father the Hakeem, to the point that he wants to kill him. But the many women in the Khan household protect him and never allow him to leave the house so that the family "shame" remains hidden.
But how long can a family protect Saifi, a gifted artist, from the cruel world? He is finally taken out, helped by his artistic touch, and paints trucks to make some money for his now struggling family. He is also raped there. His father is enraged and conducts an "honor killing" to hide his shame which Zainub witnesses but cannot prevent.
In translation "Yes it's true that I am a murderer, but a criminal I am not," aptly describes Zainub's character as she continues with her story told from the scaffold in front of the media (per her last wish). Zainub and her father the Hakeem are the two main characters on whom the story focuses. Humaima Malick's acting is good but that of Manzar Sehbai as the father who we come to hate in this film is superb. Two others that stand out are Shafqat Cheema as the pimp Sahka Kunjar from Lahore's "Heera Mandi" and last but not least the stunning Iman Ali as the courtesan Meena in a role that leaves one speechless.
If one is not from amongst the Urdu-Hindi-Punjabi speaking realm, the nuances built into the "Bol" script will not be easy to pick up. The story as written is good but the symbolism which the Urdu language is famous for is plentiful here and that makes it memorable. If "Bol" just had to have another name, it would be "Bold" in English. Shoaib Mansoor has really pushed the envelope here.
This movie is not a masterpiece of direction and the sets and cinematography, although adequate, could have been better. But "Bol' in my opinion is the best movie to come out of Pakistan since Sabiha Sumar's Partition film "Khamosh Pani" (Silent Waters). It is also perfectly timed for silent Pakistanis worldwide to speak out, denounce injustice and violence especially against women and minorities there. Speak up before it is too late.
Looking back, there was a time when some of us predicted that Slumdog Millionaire was heading to the Oscars and were somewhat ridiculed. Although "Bol" cannot be a contender for best picture, one should not be surprised if it is considered for the "Best Foreign Film" category. It certainly deserves such recognition.
There is no doubt that this is a very grim movie. Some of the worst aspects of Pakistani society are exposed in it. Hypocrisy rules the roost but the message that comes out is that claiming helplessness is no longer an option. Fair minded Pakistanis, women and minorities need to fight back and raise their voice.
To conclude, some people were not happy that I circulated information about how to see this movie to them. I have to admit that we were as shaken as they were as we were after watching it. But like Saifi and his questionable gender, the truth cannot be hidden forever. "Bol" may not be too entertaining but watching it is certainly a learning experience.
(Photographs courtesy of Geo TV-Films)
Humaima Malik in Bigg Boss 5?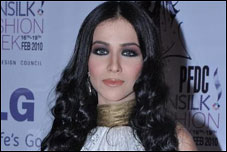 MUMBAI: There is a strong buzz that the Pakistani actress Humaima Malik might appear as a contestant in Indian TV reality show Bigg Boss 5.
Colombian pop star Shakira and the movie 'Kites' fame, Mexican actress Barbara Mori have also been approached for Bigg Boss 5.
Other names that are doing the rounds for Bigg Boss 5 are: TV actress Parul Chauhan of 'Bidai' fame, the small-screen's famous doctor Dr Armaan aka Karan Singh Grover, the sexy Riya Sen, singer Jay Sean and actress Mink Brar.
It's said that the serial killer Charles Sobhraj's wife Nihita Biswas and former cricketer Navjot Singh Sidhu have confirmed their participation in the fifth season of Bigg Boss.
Tyson is expected to visit India between October and December to shoot for the fifth season, which airs in October, reports a daily. This time the show is going to be really big as Salman Khan and Sanjay Dutt both are the hosts of the show.
Courtesy Geo.tv
Pop singer Ali Zafar is riding the wave of fortune.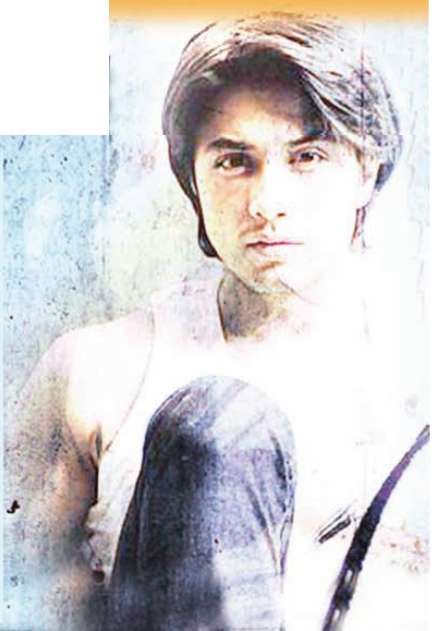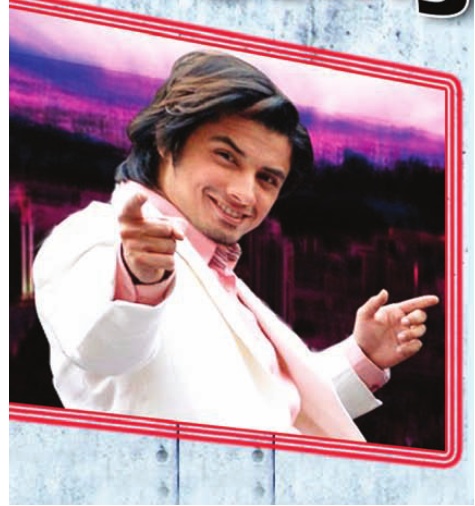 He has already made it big in Bollywood (as his second film as an actor alongside Imran Khan and Katrina Kaif is about to be released) and is now looking further ahead not very far though.
Ali Z has now signed a film titled London, Paris, New York. Aditi Rao plays his love interest in the movie, which is directed by Anu Menon. The film is being produced under the banner of Hollywood's Fox Star Studios.
It's a story of two diametrically opposed individuals (Ali Z and Aditi R) attracted to each other.
They meet for one night in three different cities. This may sound a hackneyed tale of sorts, but the makers of the project claim that it's treated differently.
Whether Ali Z is going to sing for the film, is not yet known. It'd be better if he concentrated on acting.
Courtesy Dawn....